I know you sense God's presence with you in your garden—however comforting yet mysterious, vague, or elusive He might seem—or else you wouldn't be reading this! Whether we have been sharing Devotions together for years or this is your first visit to Garden in Delight, I assume that you suspect something is up. Or rather, Someone is up to something whenever you linger in your garden, working out the weeds, sowing seeds, cutting back branches, or general put-in-order puttering. His peace, His goodness, His company nudge you, perhaps indescribably yet definitely detectable. You have glimpsed the Savior in your garden, and there are garden glimpses of God in Scripture, too! Let me show you a few. Psalm 1:2–3 and Zechariah 4:2–3 give us family portraits of Father, Son, and Holy Spirit, pictured in horticultural metaphor, perceivable in a winsome glance. Come and worship!
Tree Planted by a Stream of Water
Psalm 1:2–3 invites us to a gorgeous, abundant landscape view, laden with promises for our life when it rallies around God and His Word, His law or Torah, the teaching and decrees He has made and set forth.
Rather, he delights in the teachings of the Lord and reflects on his teachings day and night. He is like a tree planted beside streams—a tree that produces fruit in season and whose leaves do not wither. He succeeds in everything he does. Psalm 1:2–3 GW
Setting theological exegesis and higher thought aside, let us gaze at the plain-view picture of a tree established next to a flowing watercourse, and see a portrait of Jesus and Holy Spirit. O gardeners, how we know Jesus in His tree-like revelation to us, as Seed (Genesis 3:15, Galatians 3:16), Root (Isaiah 11:10, Revelation 5:5), Branch (Jeremiah 23:5), and Firstfruit (1 Corinthians 15:23), and by no coincidence He bore our sins in His own body on a tree (1 Peter 2:24 KJV).
Likewise, Holy Spirit is water-like in His revelation to us, as Living Water (Jeremiah 17:13, John 7:38-39), and poured out with blessing (Isaiah 32:15, 44:3). While Jesus grounds us, like a rooted tree, Holy Spirit moves us, like a flowing stream of water. He keeps us current and energized; picture the graceful, sweeping motions of skiing, skating, and waltzing across winter landscapes and ballroom floors, and we will begin to know the way of Holy Spirit, guiding and splashing circumstances with the Lord's vitality and refreshment, and dashing with whimsy.
"Tree planted by streams" implies that Someone planted the tree, inferring our Father the Gardener (John 15:1), completing the trinity portrait. Take in a few more translations, and the identical passage in Jeremiah 17:7–8, to imprint this picture in heart.
Their delight is in Adonai's Torah; on his Torah they meditate day and night. They are like trees planted by streams — they bear their fruit in season, their leaves never wither, everything they do succeeds. Psalm 1:2–3 CJB
Happy are those who trust in the Lord, who rely on the Lord. They will be like trees planted by the streams, whose roots reach down to the water. They won't fear drought when it comes; their leaves will remain green. They won't be stressed in the time of drought or fail to bear fruit. Jeremiah 17:7-8 CEB
And the Lord God planted a garden in Eden, in the east; and there he put the man whom he had formed. And out of the ground the Lord God made to grow every tree that is pleasant to the sight and good for food, the tree of life also in the midst of the garden, and the tree of the knowledge of good and evil. A river flowed out of Eden to water the garden, and there it divided and became four rivers. Genesis 2:8-10 RSV
For you, the Eternal's Word is your happiness. It is your focus—from dusk to dawn. You are like a tree, planted by flowing, cool streams of water that never run dry. Your fruit ripens in its time; your leaves never fade or curl in the summer sun. No matter what you do, you prosper. Psalm 1:2–3 VOICE
Lampstand and Two Olive Trees
Another horticultural portrait captures the whole family—Father, Son, and Holy Spirit–in Zechariah 4:2–3.
"What do you see?" I answered, "I've been looking at a menorah; it's all of gold, with a bowl at its top, seven lamps on it, and seven tubes leading to the lamps at its top. Next to it are two olive trees, one on the right side of the bowl and the other on its left." Zechariah 4:2–3 CJB
Again, while there are many theological premises to expound, let us look at the simple scene of the menorah standing between two olive trees. What do you see?
The Trinity! Father as a tree, Son as a tree, Holy Spirit as the lampstand: We are beholding the glory of God, the inimitable relationship of our three-in-one Almighty Lord. How poignant to picture Father and Son as a pair of olive trees, showing a father-son resemblance:
Yes, Father God lavished upon [Lord Jesus Christ] radiant glory and honor when his distinct voice spoke out of the realm of majestic glory, endorsing him with these words: This is my cherished Son, marked by my love. All my delight is found in him. 2 Peter 1:17 TPT
And it was the olive trees' fruits pressed for oil which lit the lampstand in God's meeting places, the Tabernacle (Exodus 27:20) and the Temple (1 Chronicles 9:29), as well as lamps in the households of the ancient land (1 Kings 17:2). This garden glimpse of God, olive trees accompanying olive oil light, shows the interdependence of their existence. Olive trees impart a special warmth, security in their stalwart, evergreen stance, and longevity in their abundant supply of oil to nourish skin and enrich diet. We are seeing a spiritual expression of garden-to-table goodness and a further dimension of the Shema, the crux of Jewish prayer:
Sh'ma, Yisra'el! Adonai Eloheinu, Adonai echad [Hear, Isra'el! Adonai our God, Adonai is one] Deuteronomy 6:4 CJB
The lampstand with two olive trees: The Lord together as One yet interdependent in three persons.
Garden Glimpses of God
Surely there are many more garden glimpses of God, in Scripture and in real-life landscapes. Let these two views christen and rekindle your journey of seek-and-find fun with the Lord. How he loves to be found!
You will seek me and find me, when you seek me with all your heart. Jeremiah 29:13 ESV
Pursuing Him is more important than ever in these troubled days, and the garden is a great place to begin.
Closing Prayer
O Lord, open my eyes and let me see you everywhere in the landscape, working in wondrous ways. This is the season when You will pour out Your Spirit, a sevenfold blessing of wisdom, understanding, counsel, power, intimate knowledge, and reverent awe, the fear of the Lord (Isaiah 11:2), reflected in the golden lampstand. O lovely olive trees, let's garden together! And let my love for gardening usher me right into Your love and give me the desire to know you with newfound depth and revelation (Jeremiah 24:7). Amen.
Do you love connecting God's Word to your gardening work and the trees and plants around you? You will love my new book, My Father is the Gardener, Devotions in Botany and Gardening of the Bible, order at this link.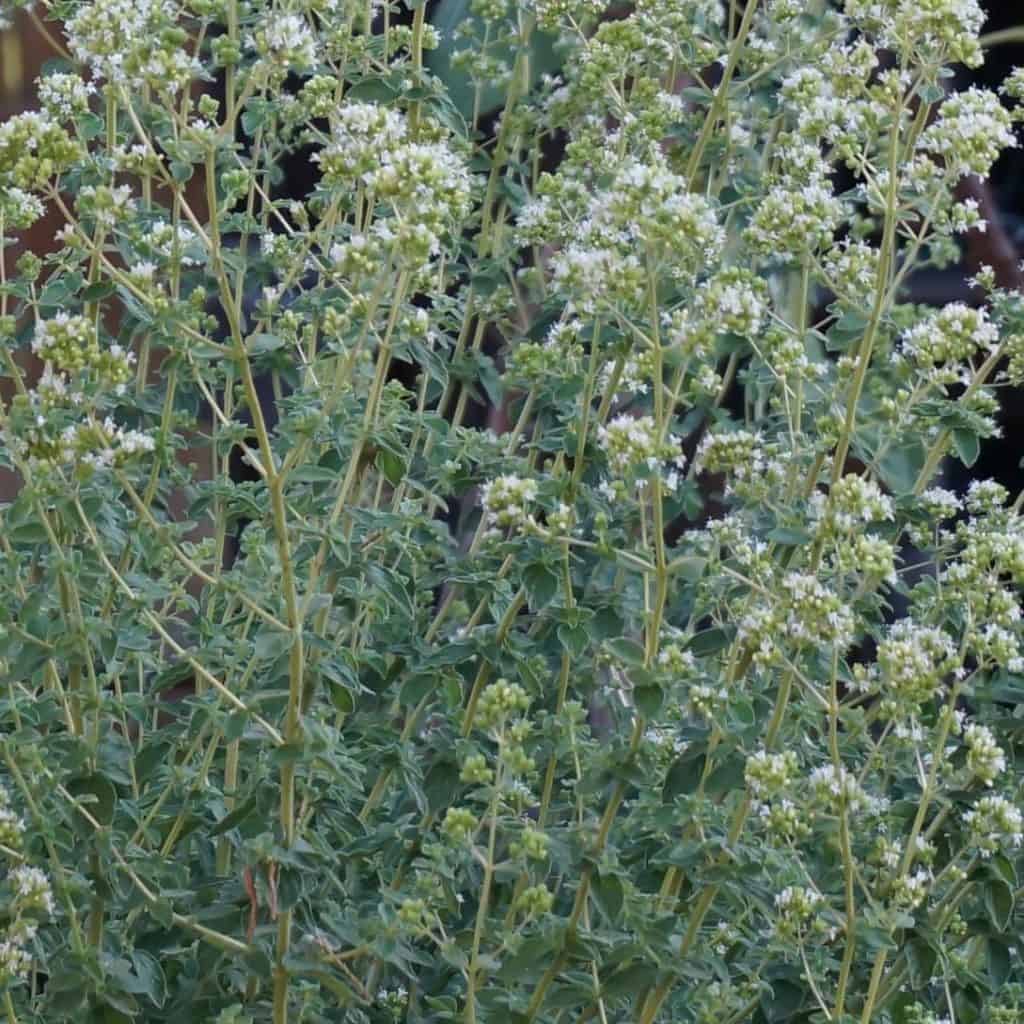 Photo Credits: Menorah Photo 41448721 | Golden © Jakub Krechowicz | Dreamstime.com; all other photos by Shelley S. Cramm
CEB notes Scripture quotations taken from the Common English Bible © 2011 Common English Bible, Nashville, Tennessee. All Rights Reserved. The CEB translation was funded by the Church Resources Development Corp, which allows for cooperation among denominational publishers in the development and distribution of Bibles, curriculum, and worship materials.
CJB notes Scripture quotations taken from the Complete Jewish Bible by David H. Stern. Copyright © 1998. All rights reserved. Used by permission of Messianic Jewish Publishers, 6120 Day Long Lane, Clarksville, MD 21029. www.messianicjewish.net.
ESV denotes Scripture quotations taken from The ESV® Bible (The Holy Bible, English Standard Version®). ESV® Text Edition: 2016. Copyright © 2001 by Crossway, a publishing ministry of Good News Publishers. The ESV® text has been reproduced in cooperation with and by permission of Good News Publishers. Unauthorized reproduction of this publication is prohibited. All rights reserved.
GW denotes Scripture quotations taken from GOD'S WORD®, © 1995, 2003, 2013, 2014, 2019, 2020 by God's Word to the Nations Mission Society. Used by permission.
RSV denotes Scripture quotations taken from the Revised Standard Version of the Bible, copyright © 1946, 1952, and 1971 the Division of Christian Education of the National Council of the Churches of Christ in the United States of America. Used by permission. All rights reserved.
TPT denotes Scripture quotations taken from The Passion Translation®. Copyright © 2017, 2018, 2020 by Passion & Fire Ministries, Inc. Used by permission. All rights reserved. ThePassionTranslation.com
VOICE denotes Scripture quotations taken from The Voice™. Copyright © 2012 by Ecclesia Bible Society. Used by permission. All rights reserved.