Christmas time is here and with it, the joy-mixed-with-bewilderment at finding just-perfect gifts for our loved ones. Have no fear! Already your garden knows precisely what to give you: Work, patience, and satisfaction. Hmmm, do I remember asking for these…??
They are presents not likely to be on a "wish list," and not easily set in pretty paper under the tree—although you might find them wrapped up in ongoing chores under the trees planted in your garden! God's Word has much to say on the essential, soul-filling nature of this trio, and seems to have hidden them as surprise gifts in the care and tending of gardens. Join me in my clean up today and let's unwrap these gifts together.
Work
When God set Adam in the garden to work it and take care of it, there was purpose beyond the poetry. After all, planting a garden is a near-angelic idea until the weeds take over or it is time to tidy up. Yet work strengthens us. Work develops our skills. Work engages us productively. Work moves us to the holy ground of greater understanding and endearing commitment. In other words, through work we grow in mind, heart, and spirit. It is a gift.
David also said to Solomon his son, "Be strong and courageous, and do the work. Do not be afraid or discouraged, for the Lord God, my God, is with you.
1 Chronicles 28:20 NIV
The man who had received five bags of gold went at once and put his money to work and gained five bags more.
Matthew 25:16 NIV
Throw yourselves into the work of the Master, confident that nothing you do for him is a waste of time or effort.
1 Corinthians 15:58 The Message
To enjoy your work and to accept your lot in life—that is indeed a gift from God.
Ecclesiastes 5:19 TLB
Patience
Planting bulbs must be the prettiest metaphor to picture patience! Catalog images or the vivid delight from last spring's visit to a local public garden is all that is needed to nourish the mind's eye, and tuck these otherwise unremarkable lumps into the ground and wait for their beautiful bloom. Water and wait. Mulch and wait. Shiver and wait, in winter's wind and bluster. Shovel and wait, as snowfall covers and drifts. In waiting our strength is renewed, our resolve forged.
For ye have need of patience
Hebrews 10:36 KJV
This calls for patient endurance on the part of the people of God who keep his commands and remain faithful to Jesus.
Revelation 14:12
Wait for the Lord; be strong and take heart and wait for the Lord.
Psalm 27:14 NIV
…but they who wait for the Lord shall renew their strength; they shall mount up with wings like eagles; they shall run and not be weary; they shall walk and not faint.
Isaiah 40:31 ESV
Satisfaction
Pleased, full, filled, content—not pressed or fettered: Free. Satisfaction is beyond the all-out riot of fun and frenzied feast; it is the gentle, glowing hold of quiet confidence that liberates. It is the Lord's gracious gesture, from the well of His soul-loving Presence, a gift that establishes as our adoring trust of Him takes hold.
I will provide grass in the fields for your cattle, and you will eat and be satisfied.
Deuteronomy 11:5 NIV
For He satisfies the longing soul, And fills the hungry soul with goodness.
Psalm 107:9 NKJV
Right will build a home in the fertile field. And where there's Right, there'll be Peace and the progeny of Right: quiet lives and endless trust. My people will live in a peaceful neighborhood— in safe houses, in quiet gardens.
Isaiah 40:31 The Message
The result of righteousness will be peace; the effect of righteousness will be quiet confidence forever.
Isaiah 40:31 HCSB
…it's the rich simplicity of being yourself before God.
1 Timothy 6:6 The Message
We have a "profit" that is greater than theirs—our holy awe of God!
1 Timothy 6:6 TPT
A Garden's Gifts
On the first day of Christmas my true love gave to me**….a place to work, to practice patience, to know satisfaction…no wonder our True Love gave us a garden!
And the Lord God planted a garden in Eden
Genesis 2:8 RSV
Adonai, God, took the person and put him in the garden of 'Eden to cultivate and care for it.
Genesis 2:15 CJB
I will give you hidden treasures, riches stored in secret places, so that you may know that I am the Lord, the God of Israel, who summons you by name.
Isaiah 45:3 NIV
PostScript
*for more information on why compost is considered "black gold," click to see www.natureswayresources.com/DocsPdfs/blackgold.pdf
**words from the classic Christmas song "The Twelve Days of Christmas," c. 1780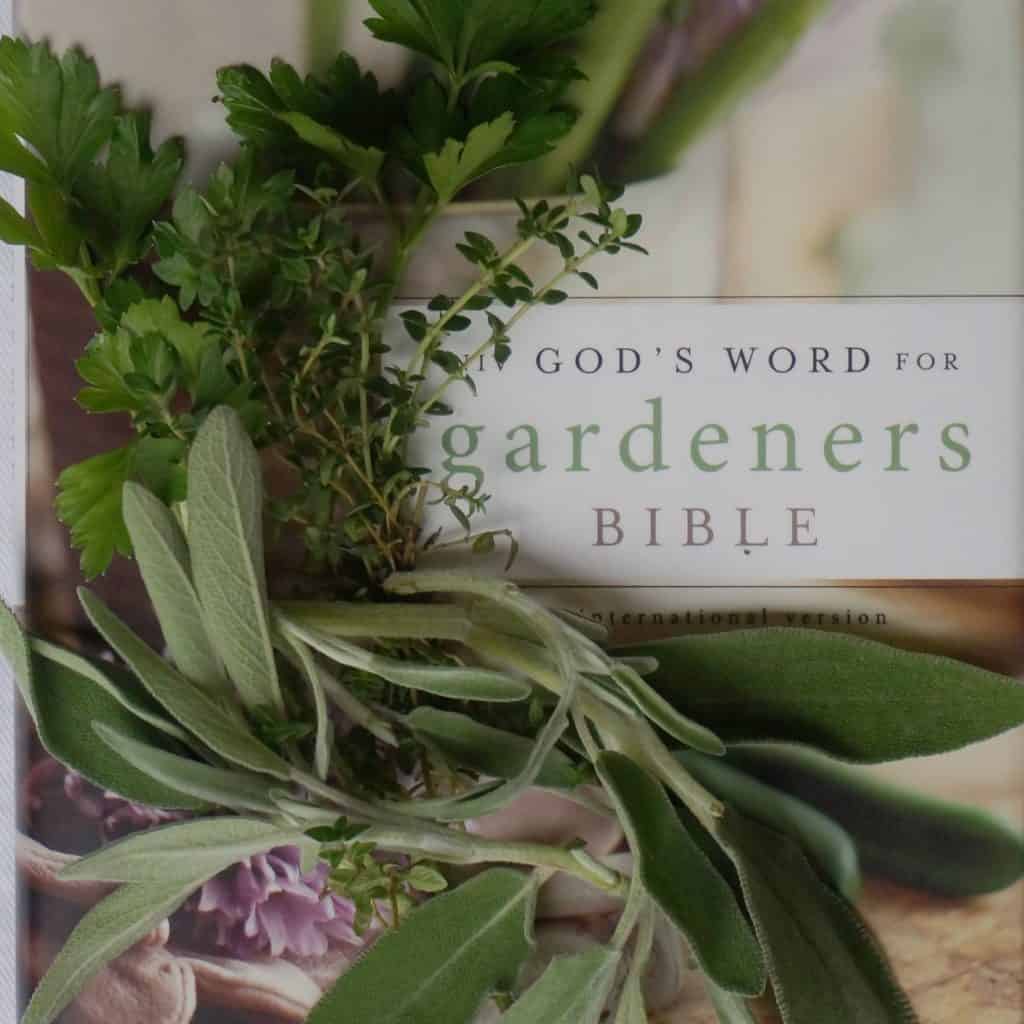 Photo Credits:
©2019 Shelley S. Cramm
Soft green pottery from Jackson's Home & Garden, a perfect garden gift! Filled with butter yellow pansies, and Narcissis tazetta 'avalanche' tucked in for spring delight. I love to use Arizona cypress 'Carolina sapphire' branches as decorative mulch. In the background, notice 'Olive Martini' Elaeagnus shrubs from Southern Living Plant Collection
Holy Land bulbs from Brent & Becky's Bulbs, clockwise from top – Tulipa 'Marilyn,' Anemone coronaria 'Governor,' and Narcissus tazetta 'Avalanche' – topped off by a garlic bulb that sprouted in my kitchen drawer…I guess it would rather be in the garden, too!
Brassica juncea 'Ruby Streaks' mustard or mizuna is easy to grow from seed, also growing in popularity among edibles offered at the garden center