The Days of Awe are upon us, the ten-day stretch between the Feast of Trumpets and Yom Kippur, a holy observance in the Jewish faith rooted in the Bible. It is a time of sober contemplation and intent soul-searching; days set apart to consider one's ways and make corrections, in order to prepare for a pleasing year ahead. Interestingly, our nation's observance of the 20th year since the 9/11 terrorist attacks falls against this backdrop of sobering reflection, uniting us with Israel in the posture of holy remembrance.
"…Consider then and realize how evil and bitter it is for you when you forsake the Lord your God and have no awe of me," declares the Lord, the Lord Almighty. Jeremiah 2:19 NIV
But what does this have to do with gardening? No surprise, God's Word has tucked a plant at such a turning point: Wormwood. Therefore, as avid plant-keepers, we can't help but dig in, seeking more of the Lord in the sacred Days of Awe.
Where is the Wormwood?
Praise the Lord for His timing! As it turns out, Deuteronomy 29:9-30:30 is the parashah for these beginning Days of Awe. The parashah is the portion of Scripture read each week from the Torah, or first five books of the Bible. Though the Feast of Trumpets and Yom Kippur are described in Leviticus 23:23-32, all those keeping the parashah would be led to this Deuteronomy passage pinpointed by wormwood.
so that there will not be among you a man or woman, or family or tribe, whose heart turns away today from the Lord our God, to go to serve the gods of those nations; that there will not be among you a root bearing poisonous fruit and wormwood. Deuteronomy 29:18 NASB
Pausing to reflect, we can see that wormwood alerts us to the true source of troubles, those moments confronting the conscience in Days of Awe contemplation: Turning one's heart from God to other gods or idols. The turn may not seem like a big deal at first –
There is a way that appears to be right, but in the end it leads to death. Proverbs 16:25 NIV
– but the Lord is emphatic that turning away from Him is like ingesting a poisoning bitterness. Since He is the source of all goodness, turning away from Him by default aligns us with "badness," sickening one's stamina, weakening embrace of wisdom, and inviting evil takeover of hearts and livelihoods.
Why Wormwood?
In ancient times, wormwood was so well-known for its acrid, distasteful leaves that its name in Hebrew, la'anah, became a botanical synonym for bitterness. Many translators skip mentioning the plant altogether, and simply warn of the bitter likeness in turning away from the Lord to give other gods attention and authority. Compare these translations:
Make sure there is no man or woman, clan or tribe among you today whose heart turns away from the Lord our God to go and worship the gods of those nations; make sure there is no root among you that produces such bitter poison. Deuteronomy 29:18 NIV
so that there is not among you a man or a woman or a clan or a tribe whose heart turns today from being with Yahweh our God to go to serve the gods of these nations, so that there is not among you a root sprouting poison and wormwood. Deuteronomy 29:18 LEB
Both passages convey God's truth. Yet as gardeners, we relish the details of the plants and how they connect us to the land and the Word. Why wormwood? Because it is engaging to learn about the actual plant, so we can plant the plant! Wormwood in our gardens would serve as a constant reminder of God and His Word with us—"The word is very near you," said Moses (Deuteronomy 30:14). In this case, seeing the fluffy, graceful mounded shrubs would remind us to aspire to the converse of this verse—may we turn to the Lord always and remain sweet! Like the sweetness of apples and honey, treats served in Jewish households to celebrate the turning of the new year.
Which Wormwood?
Wormwood is identified with the genus Artemisia, a group of water-wise plants in the Sunflower family, Asteraceae. Most of the plants in this genus grow in mounded habits, with intricate, grey-green, pungently-scented foliage. Small, yellow flowers appear on some of them, but it is the distinctive leaves and their extract which contain the identifying bitterness.
Scripture's exact species remains a matter of debate among Biblical botanists. The most likely choice is Artemisia judaica, which speckles the arid, wilderness terrain from Egypt to the Negev. However, two other species, A. herb-alba and A. arborescens, white wormwood and tree wormwood respectively, also grow throughout the Holy Land and are supported by some as Biblical wormwood.
Americans in the west might relate to this iconic botanical by an Artemisian cousin, A. tridenta or sagebrush, Nevada's state flower. Sagebrush grows similarly to Judean wormwood, dotting the desolate, western landscape with tufts of scrappy bush. Certainly, those who trek the expansive, sun-scorched hills and valleys of the west can testify to the distinctive aroma of these survivalist shrubs—who agrees that appreciating the scent of sagebrush is an acquired taste that grows to an affectionate yearning.
Artemisia absinthium, commonly known as wormwood, is a European plant. This species is most frequently associated with wormwood of the Bible, probably due to its use in tonics and absinthe liqueur. Though perhaps intriguing or curative at first, ingesting the potions over time was thought to increase toxicity and create confused thinking, perhaps even to death – all a mysterious resounding of Biblical predictions. However, because it is native to northern Europe, it is probably not the Bible's wormwood.
Gardeners, however, will prefer to cultivate Artemisia 'Powis Castle,' southernwood, or Artemisia 'silver mound.' These are hybrids, milder in their noxious attributes, great ground covers and non-invasive. Opposite of wormwood's mournful warnings, hybrid Artemisias bring a sense of refreshment to the landscape. These gentle, graceful alternates seem expressive of this passage in Hebrews, a reiteration of the warning in Deuteronomy 29:18 –
See to it that no one misses out on God's grace, that no root of bitterness springing up causes trouble and thus contaminates many Hebrews 12:15 CJB
For more information on Artemisia varieties for the garden, visit Mountain Valley Growers, www.mountainvalleygrowers.com/Artemisia.htm
Bitter Laments & Sweet Returns
The following Scriptures relay the bitter cries of our Lord, urging His people to return to Him, regather in His goodness. You may want to spend a few moments to savor their grace and truth and be washed afresh in God's forgiveness of sins atoned for in Jesus' death.
I will cry and sob for the mountains. I will sing a lament for the pastures in the wilderness… Why is the land ruined and laid waste like a wilderness, so that no one can pass through it? The Lord said: This happened because they have forsaken my law, which I set before them. They did not listen to my voice or live according to it. Instead, they followed the stubbornness of their hearts, and they have followed the Baals as their fathers taught them. Therefore, this is what the Lord of Armies, the God of Israel, says. Watch me. I am going to make this people eat wormwood and drink bitter water. Jeremiah 9:10, 12-15 EHV
Yet you have turned justice into poison and the fruit of righteousness into bitter wormwood. You take pleasure in worthless things. You think your power comes from your own strength. Amos 6:12-13 CJB
The people say, "Let's return to the Lord! Hosea 6:1 GNT
Then the third angel sounded his trumpet, and a huge star, blazing like a lamp, fell from the sky. It fell on a third of the rivers and on the springs of water. The name of the star was Wormwood, and a third of the waters became wormwood. Many of the people died from these waters because they had been made bitter. Revelation 8:10-12 EHV
Your word is so pleasing to my taste buds— it's sweeter than honey in my mouth! Psalm 119:103 CEB
Among the prophets of Samaria I saw something disgusting: They prophesied by Baal and led My people Israel astray… Therefore, this is what the Lord of Hosts says concerning the prophets: I am about to feed them wormwood and give them poisoned water to drink, for from the prophets of Jerusalem ungodliness has spread throughout the land. Jeremiah 23:13, 15 HCSB
but in the end [the lure of sin] is as bitter as wormwood, sharp as a double-edged sword. Proverbs 5:4 CJB
Remember my utter misery, the wormwood and the gall. They are always on my mind; this is why I am so depressed. But in my mind I keep returning to something, something that gives me hope — that the grace of Adonai is not exhausted, that his compassion has not ended. [On the contrary,] they are new every morning! How great your faithfulness! "Adonai is all I have," I say; "therefore I will put my hope in him. Adonai is good to those waiting for him, to those who are seeking him out. It is good to wait patiently for the saving help of Adonai.   Lamentations 3:19-26 CJB
God gave the Law through Moses, but grace and truth came through Jesus Christ.   John 1:17 GNT
Therefore, in all things it was necessary for [Jesus] to be made like His brothers, so that He might be a merciful and faithful High Priest in the things pertaining to God, to make atonement for the sins of the people. Hebrews 2:17 MEV
Days of Awe Prayer
O Lord, yes! I turn to you! As if I hear your trumpet blast, I give you my full attention. Rid me of the stubbornness of my own heart so heart I may devote my whole heart to You. Show me where I take pleasure in worthless things and turn me instead to your everlasting love and gentle grace. Let me be alert to all your ways and put my every hope in you. Give me deeper love and stronger pursuit of your Word, that my life will be filled with your sweetness, and the year ahead pleasing to You. Lord Jesus, You have done what only you could do: Atone for my sins. Thank You for your forgiveness and freedom to live and take hold of your goodness. Hear my prayer for my countrymen; root out all bitterness in our nation, clear us of all poisons and let us return to you. Amen.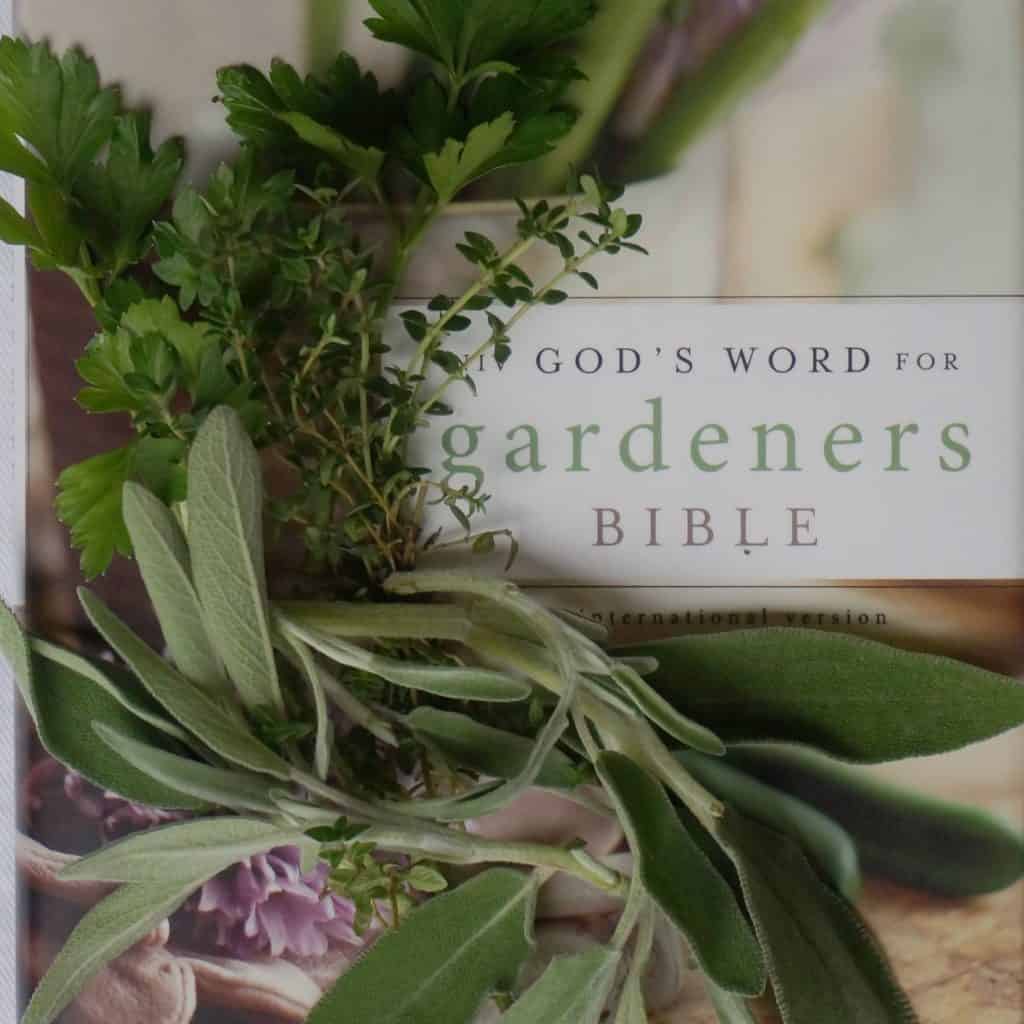 Read more on wormwood in "Bitter is a Heart Turned Away," in devotions on Weeding in God's Word for Gardeners Bible, in the Garden Work section beginning on page a-28
Jo Ann Gardner's book is a wonderful help on the subject of wormwood! Hers is a gardener's guide through the parashah as well. Seeds of Transcendence: Understanding the Hebrew Bible Through Plants, by Jo Ann Gardner (Mount Vernon, New York, Decalogue Books, 2014) available at her website www.joanngardnerbooks.com & enjoy my book review at More Bible Plant Books
Photo Credits: ©2015-2021 Shelley S. Cramm
I look forward someday to bringing you a picture of Artemisis judaica from Israel someday – for now,
Artemisia 'Powis Castle' grows excellently in our Texas garden – see why it's my Garden MVP
Botanical illustration of A. judaica from: Oskamp, Diederick Leonhard. Afbeeldingen der artseny-gewassen… Vol. 3. (Amsterdam, J.C. Sepp en Zoon, 1796). Plate 282. From Harvard University/HathiTrust
CEB notes Scripture quotations taken from the Common English Bible © 2011 Common English Bible, Nashville, Tennessee. All Rights Reserved. The CEB translation was funded by the Church Resources Development Corp, which allows for cooperation among denominational publishers in the development and distribution of Bibles, curriculum, and worship materials.
CJB notes Scripture quotations taken from the Complete Jewish Bible by David H. Stern. Copyright © 1998. All rights reserved. Used by permission of Messianic Jewish Publishers, 6120 Day Long Lane, Clarksville, MD 21029. www.messianicjewish.net.
EHV notes Scripture quotations taken from The Holy Bible, Evangelical Heritage Version® , EHV®, © 2019 Wartburg Project, Inc. All rights reserved. Used by permission.
GNT denotes Scripture quotations from the Good News Translation® (Today's English Version, Second Edition) Copyright © 1992 American Bible Society. All rights reserved.
HCSB denotes Scripture quotations taken from the Holman Christian Standard Bible®, Copyright © 1999, 2000, 2002, 2003, 2009 by Holman Bible Publishers. Used by permission. Holman Christian Standard Bible®, Holman CSB®, and HCSB® are federally registered trademarks of Holman Bible Publishers.
LEB denotes Scripture quotations taken from the Lexham English Bible. Copyright 2012 Logos Bible Software. Lexham is a registered trademark of Logos Bible Software.
MEV denotes Scripture quotations taken from The Holy Bible, Modern English Version. Copyright © 2014 by Military Bible Association. Published and distributed by Charisma House. All rights reserved.
NASB denotes Scripture quotations taken from the NEW AMERICAN STANDARD BIBLE®, Copyright © 1960,1962,1963,1968,1971,1972,1973,1975,1977,1995 by The Lockman Foundation. Used by permission.
NIV denotes Scripture quotations taken from the Holy Bible, New International Version®, NIV®. Copyright © 1973, 1978, 1984, 2011 by Biblica, Inc.® Used by permission of Zondervan. All rights reserved worldwide. www.zondervan.com The "NIV" and "New International Version" are trademarks registered in the United States Patent and Trademark Office by Biblica, Inc.®