How excited I was to enjoy the exotic fruits of our fig tree this week – complete with a Bible lesson, of course! The little tree was fruitless last year (read more about it in "From the Garden" News, click here), but after one more year, hurray! Delicious fruit to savor. Its juicy harvest has me thinking, though…has this been the "one more year" spoken of in the Parable of the Fig Tree?
Certainly 2020 – the crown year – was a year like no other, shaking up our lives in drastic ways. But what of 2021? Have we just experienced one more year of God's grace, a last chance to turn to the Lord and to embrace His fruitful-blessing way of life? This real-garden moment led me back to the Parable of the Fig Tree; let me lead you here, too. Ponder the parable from this book excerpt and join me in a post-script prayer.
Devotion from God's Word for Gardeners Bible, page 1175
A Fig Tree Story: Put Faith to Work
Read: Luke 13:6 – 9
Thicken the Plot: Micah 4:4; Matthew 17:19 – 20; Hebrews 4:14 – 16
Then he told this parable: "A man had a fig tree growing in his vineyard, and he went to look for fruit on it but did not find any. So he said to the man who took care of the vineyard, 'For three years now I've been coming to look for fruit on this fig tree and haven't found any. Cut it down! Why should it use up the soil?' "'Sir,' the man replied, 'leave it alone for one more year, and I'll dig around it and fertilize it. If it bears fruit next year, fine! If not, then cut it down.'"
Luke 13:6-9 NIV
In this story told by Jesus, we have a troublesome fig tree not bearing fruit as fig trees are supposed to do. Since the owner checked on the tree regularly and had a man about the vineyard tending it, let's assume the man gave the fig tree everything it needed in the way of water, healthy soil, fertilizer, pruning and pest prevention. Nothing stood in the way of this tree's ability to produce according to its heritage and destiny; all care had been taken.
The scene has the practicality, economy and common sense that any profitable farm, vineyard or garden has: to provide for the needs of the crop so that the crop will bring a return. The landowner's family must have been eager to enjoy delicious, nutritious figs on their harvest table (Micah 4:4), sun-kissed with summer's sweetness, a happy end to a long season of working and waiting.
So what's the holdup, Mr. Fig Tree? You have everything you need to produce fruit abundantly and bless this family with your harvest (2 Corinthians 9:8). You even have more help — the mercy and grace of the man taking care of you (Luke 13:8; Hebrews 4:16). He has committed to linger a little longer, cultivate caringly, and see if you will step into your calling.
He was thoroughly impatient with dabblers. Each student must complete what he had started. "I will help you as long as you are making progress, but once you decide to quit, I will not waste my own time further. And don't take up any of my time with a frivolous excuse. All I want is the thing done."


George Washington Carver, quoted by author Rackham Holt, George Washington Carver, An American Biography, 1948
A mustard seed's volume of belief in the possibilities is all that is necessary (Matthew 17:20); with the heritage and resource at your disposal, nothing will be impossible for you. But there is no use to wait forever. "What more could have been done for my vineyard than I have done for it?" (Isaiah 5:4). The purpose of this endearing vineyard is to bless — "He makes . . . plants for people to cultivate — bringing forth food from the earth: wine that gladdens human hearts, oil to make their faces shine, and bread that sustains their hearts" (Psalm 104:14 – 15). Mr. Fig Tree, you are invited to join this beautiful, unfolding work. But this is a working vineyard; no "dabblers," as George Washington Carver would say. Why should you use up the soil? (Luke 13:7) Bear fruit or be cut down.
©Shelley S. Cramm, God's Word for Gardeners Bible (Grand Rapids: Zondervan, 2014), page 1175
Post-Script Prayer: O God, your Word is true for all-time, yet You dispatch it precisely to specific situations and timelines. Show me your parallels between this parable and the "one more year" in which corona-virus terror has continued to grip us (and many other uprisings and earthquakes, Luke 21:9-36). Help me to see Your great care and small graces you have given me this year, nourishing and refreshing me despite chaos in the headlines. Bless me to be fruitful in the many ways this metaphor can play out. Your Spiritual fruits (Galatians 5:22-23)—love, peace, patience, kindness, goodness, gentleness, self-discipline—let me at least begin here! And Lord! Let me ask boldly at Your throne of grace for mercy for my loved ones, my community, our nation and all the nations: May all who call on the Name of the Lord be saved (Joel 2:32, Romans 10:13). Amen.
Since we have a great High Priest, Jesus, the Son of God who has passed through the heavens from death into new life with God, let us hold tightly to our faith. For Jesus is not some high priest who has no sympathy for our weaknesses and flaws. He has already been tested in every way that we are tested; but He emerged victorious, without failing God. So let us step boldly to the throne of grace, where we can find mercy and grace to help when we need it most. Hebrews 4:14-16 The Voice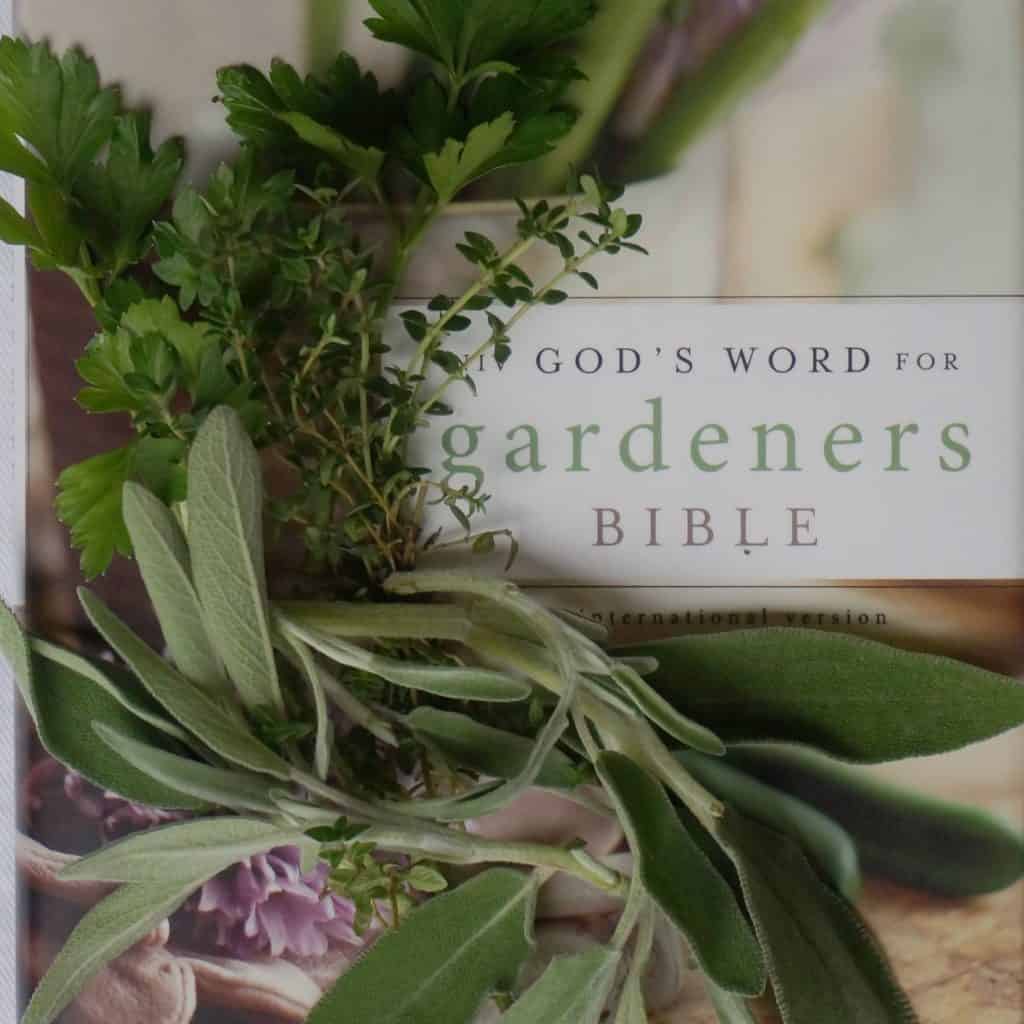 Find "A Fig Tree Story: Put Faith to Work," and other parables in devotions on Jesus' Horticultural Parables in God's Word for Gardeners Bible, in the Garden Stories section beginning on page a-44
NIV denotes Scripture quotations taken from the Holy Bible, New International Version®, NIV®. Copyright © 1973, 1978, 1984, 2011 by Biblica, Inc.® Used by permission of Zondervan. All rights reserved worldwide. www.zondervan.com The "NIV" and "New International Version" are trademarks registered in the United States Patent and Trademark Office by Biblica, Inc.®
VOICE denotes Scripture quotations taken from The Voice™. Copyright © 2012 by Ecclesia Bible Society. Used by permission. All rights reserved.
Inspiration also taken from Luke 13:6-9 The Passion Translation & footnotes