Prophets & Leaders Bible Garden Design comes to rest this Holy Week in a garden shelter of leafy trees dedicated to Nehemiah's Call. A righteous leader raised up to restore ancient Jerusalem, Nehemiah brought back Godly reverence, work ethic, national unity, and all-out celebration, inspiring the courage to work hard together, and when the work was done, to hop the walls together and dance!
Deep in his heart Nehemiah loved God's Word, and devoted himself to restore its goodness in every aspect of the daily lives of Israel's citizens. The results resounded great joy. These words are our life, was a heart cry of Moses (Deuteronomy 32:47), our starting point for this landscape design journey, words lived out through Nehemiah's leadership to revitalize his people.
click here to return to the series' first Bible Garden Design – Moses' Murmuring Vegetables
For your design of Nehemiah's Call, find a breezy glance and a deeper gaze, and take in whichever fits your timing:
Schematic Design will highlight key elements, complimented with a Deeper Dig into the background story if you have time for more reading.
Plant Palate will recommend plants to feature, with a Scripture Guide at the end if you would like to see the plants as they are written in verse.
Landscape Views will offer glimpses of gardens and landscapes as possible examples
Words for Lent will offer further insight for the Lenten season into the relationship of the featured prophet or leader with repentance, his Reflections of the Messiah, and the Time of Restoration spoken of by the holy prophets, guided by Acts 3:19-26.
Nehemiah's Call
The story of Nehemiah and his work of restoration reveal God's epic patterns of renewal, all the more relatable by rich botanical references. It is sure to capture a gardener's attention with the command to go out and gather a list of leafy tree branches: olive, wild olive, myrtles, palms, and other leafy trees (Nehemiah 8:15)—how fun, I'm in!!
Though Nehemiah's call to bring back these branches was spoken in celebrating fall's Feast of Tabernacles, I am mesmerized by the detail that Christ's entry to Jerusalem, on his way to celebrate spring's Passover and Feast of Unleavened Bread…encircling his own moment with death and risen victory…was marked by the people cutting these same branches, waving and spreading them in great joy and triumph.
This fascinating reiteration of Nehemiah's festal boughs has a bigger symbolism to explore. Gardeners, grab your clippers, and let's go out in joy!!
Schematic Design Ideas
Nehemiah's name will likely have instant association with wall-building. The breaches and brokenness of Jerusalem's fortifying perimeter upset the lay leader to the core, compelling him to overcome much in seeing its return to well-built status. A wall simply must be a central feature of a garden bearing Nehemiah's name.
It would have been made up of limestone, hand-hewn, stone by stone, family by family, to encircle the city in protection as told in Nehemiah 2:16-6:15. Creativity abounds in interpreting this design element, perhaps showcasing the movement from rubble to restored, marking its halfway height (v. 4:6), or the patchwork nature of the many families' craftsmanship coming together.
When the construction was completed—in a miraculous 52 days—Nehemiah called for a commanding celebration and sent the people parading along the top of the wall, surrounding the city in songs of joy, see Nehemiah 12:27-43. Perhaps construct the garden's wall as a pathway offering an elevated view of the landscape—with room to skip, sing, and jump for joy!
Construction concluded with a gathering to hear the priests read the Scriptures, and follow their instruction on celebrating the Feast of Tabernacles. An interpretive design might include trellis structures in imply the temporary shelters of the holiday.
Which branches? Nehemiah's call and the trees he itemized connected to the prior species list originally teaching how to celebrate: take "goodly" fruit, palm trees, leafy trees, and willows…rejoice…celebrate…live in temporary shelters…written in Leviticus 23:40-42.
Sorting out the slight species' differences, translational nuances, botanical knowledge, or lack thereof, might cause a Hosanna! moment of its own—save us from confusion!! Not to mention the holiday they were abiding in has three names: Feast of Ingathering, Feast of Booths, or Feast of Tabernacles, where "booths" and "tabernacles" describe temporary shelters.
With these discrepancies, Bible scholars and botanists have had much to debate over the years, yet Jewish tradition has settled the matter on a lulav constructed of palm frond, myrtle, and willow branches woven together and held in one hand, and Etrog, or citron fruit, held in the other. Any way interpretation is worked out, garden and landscape designers have much plant material to work with in creating a delightful outdoor space that showcases the ancient botany and artistic poetry of this story, and its truly joyful nature.
Date palms and willow trees have distinct forms, habits, textures, and imagery, each iconic in their own right. A space displaying both of these will dazzle visitors with a wide view of diversity.
Myrtles and wild olive—also known as oleaster or elaeagnus— are large shrubs or small trees able to endure cooler climates than the rest of the lists, hardy to zone 8 and zone 6 respectively. Their leaves are soft, so that boxwood might be an "other leafy tree" substitution for colder climates. Let the cultivars and varieties available today enhance this the range of leafy greens adorning this garden space.
Olives and citrons are only hardy to zone 9, likely candidates for potted display in most landscape exposures. Both species embody a glimpse of light: Citron, in its fruit color, bold and sunny yellow; and olive, in its fruit pressed out for oil, the greatest source of lamplight in the ancient world. Use these horticultural hints to express Psalm 118:27… God is the Lord, who hath shown us light.
Living water. An unspoken theme of the Feast of Tabernacles' plant designation is water: each leafy branch invokes a water metaphor in its own way, subtle details for discerning naturalists.
Willows are almost always found by a brook, pond or other water's edge; date palms survive their desert existence by tapping into underground aquifers; myrtles were most likely to grow in ravines where rainfall runoff converged.
When Jesus made his appeal to the thirsty at the end of his Feast of Tabernacles appearance in John 7:37-39, he was hinting to this horticultural insight and revealing the spiritual metaphor of living water. Incidentally, part of the Jewish ritual observing this feast involves pouring out water from a golden pitcher. Let a meandering brook, flowing river, pouring out fountain, a Water Gate in the wall, or other symbolic water feature be a discovered treasure in this landscape space.
Plant Palate
links provided will take you to cultural information in the Plant Guide
Fruit Trees: date palm, olive, citron, or Etrog in Hebrew, Citrus medica
Trees or large Shrubs: myrtle, willow, wild olive or elaeagnus, generic leafy trees
Landscape Views
Deeper Dig into Nehemiah's Life
Nehemiah's amazing accomplishment—to lead reconstruction of Jerusalem's fortifying wall, to return the people to livelihoods established in the law of the Lord—was born out of a lowly moment. While exiled, working as a servant of the Persian king, Nehemiah's brother brought back a report of the capital city in shambles, ransacked and lifeless. This troubled Nehemiah in his deepest soul: this was not right. For days he was reduced to a puddle of distraught sobs, his appetite surrendered, his lament poured out in prayer to God.
Out of Nehemiah's overwhelming emotion and confession, God lifted up strength and resolve. Nehemiah formed a plan and waited for the right time to approach the king. In due time, the servant asked and King Aterxerxes answered, honoring the request to go his homeland and rebuild.
Though his faithful service and trusted reputation gave him opportunity, Nehemiah considered the king's favor as a clear extension of God's grace-covering.
Here Nehemiah took his stand, so to speak, under the Righteous Branch.
He looked to the Lord to grant success, tsalach in Hebrew, a gesture of the Lord with botanical implication.
We beg you, O Yahweh, save us! [Hosanna!]
We beg you, O Yahweh, give us success!
Blessed is the one who comes in the name of Yahweh.
We bless you from Yahweh's house.
Yahweh is El, and he has given us light.
March in a festival procession with branches to the horns of the altar.
You are my El, and I give thanks to you.
My Elohim, I honor you highly.
Psalm 118:25-29
Names of God Bible
Nehemiah loved and looked constantly to the law of the Lord, a reverence shown faithfully through the end of the book of Nehemiah. His delight in God's Word and the success of his work was a reflection of the promise of Psalm 1:
Their delight is in Adonai's Torah;
on his Torah they meditate day and night.
They are like trees planted by streams —
they bear their fruit in season,
their leaves never wither,
everything they do succeeds.
Psalm 1:2-3 CJB
In turn, this Psalm 1 imagery of fresh, leafiness and abundant fruit is reflected in the celebratory boughs and "goodly" fruit that are at the heart of the Feast of Tabernacles' celebration, the rejoicing festival that Nehemiah led his people to enjoy.
…which, of course, circles back to the garden of Eden, around to Ezekiel's witness, with a pirouette towards Revelation's view: the tree whose leaves are for healing and whose nourishing fruit is unending.
Scripture Guide
a quick reference of verses mentioning plant material and garden design elements:
[His brother Hanani and some other men from Judah] said to me, "Those who survived the exile and are back in the province are in great trouble and disgrace. The wall of Jerusalem is broken down, and its gates have been burned with fire." When I heard these things, I sat down and wept. For some days I mourned and fasted and prayed before the God of heaven.
Nehemiah 1:3-4 NIV
Lord, let your ear be attentive to the prayer of this your servant and to the prayer of your servants who delight in revering your name. Give your servant success today by granting him favor in the presence of [King Artaxerxes].
Nehemiah 1:11 NIV
"You see the trouble we are in: Jerusalem lies in ruins, and its gates have been burned with fire. Come, let us rebuild the wall of Jerusalem, and we will no longer be in disgrace." I also told them about the gracious hand of my God on me and what the king had said to me. They replied, "Let us start rebuilding." So they began this good work.
Nehemiah 2:17-18 NIV
I answered them by saying, "The God of heaven will give us success…"
Nehemiah 2:20 NIV
So we rebuilt the wall till all of it reached half its height, for the people worked with all their heart.
Nehemiah 4:6 NIV
So the wall was completed on the twenty-fifth of Elul [comparable to mid-September], in fifty-two days.
Nehemiah 6:15 NIV
All the people gathered as a united body into the plaza in front of the Water Gate. They asked Ezra the scribe to bring out the Book of the Law of Moses, which the Lord had commanded for Israel.
Nehemiah 8:1 ISV
They found written in the law how the Lord had commanded through Moses that the Israelites should dwell in shelters during the festival of the seventh month. So they proclaimed and spread this news throughout their towns and in Jerusalem, saying…
Nehemiah 8:14-15 CSB
…Go out to the mountains, and collect branches of olives, wild olives, myrtles, palms, and other leafy trees to make sukkot, as prescribed.
Nehemiah 8:15 CJB
And you shall take on the first day the fruit of goodly trees, branches of palm trees, and boughs of leafy trees, and willows of the brook; and you shall rejoice before the Lord your God seven days.
Leviticus 23:40 RSV
He said to me, "….Fruit trees of all kinds will grow on both banks of the river. Their leaves will not wither, nor will their fruit fail. Every month they will bear fruit, because the water from the sanctuary flows to them. Their fruit will serve for food and their leaves for healing."
Ezekiel 47:12 NIV
On the last and greatest day of the festival [Festival of Tabernacles, v. 7:2], Jesus stood and said in a loud voice, "Let anyone who is thirsty come to me and drink. Whoever believes in me, as Scripture has said, rivers of living water will flow from within them."
John 7:37-38 NIV
The tree of life was on each side of the river, bearing twelve kinds of fruit, producing its fruit every month. The leaves of the tree are for healing the nations…
Revelation 22:2 CSB
But you, O mountains of Israel, shall shoot out your branches, and yield your fruit to my people Israel; for they shall soon come home…"
Ezekiel 36:8 NRSV
Words for Lent
Repent, then, and turn to God, so that your sins may be wiped out.…Acts 3:19 NIV
Nehemiah inspired mighty accomplishments in rebuilding the wall around Jerusalem and restoring the God's righteous way of life to the holy city, but his first courageous act was to rid himself of any pretense before the Lord. He realized his own weaknesses and those of his countrymen, and poured them out in humble prayer:
When I heard […the wall of Jerusalem is still rubble…], I sat down and wept. I mourned for days, fasting and praying before the God-of-Heaven. I said, "God, God-of-Heaven, the great and awesome God, loyal to his covenant and faithful to those who love him and obey his commands:… I'm praying day and night in intercession for your servants, the People of Israel, confessing the sins of the People of Israel. And I'm including myself, I and my ancestors, among those who have sinned against you. We've treated you like dirt: We haven't done what you told us, haven't followed your commands, and haven't respected the decisions you gave to Moses your servant.
Nehemiah 1:4-9 The Message
Nehemiah's Reflections of Refreshing
…that times of refreshing may come from the Lord… Acts 3:19 NIV
Nehemiah was confident in God's love and faithfulness, trusting His gift of strength and success in the hoped-for restoration of Jerusalem:
"…Come, let's rebuild Jerusalem's wall, so that we will no longer be a disgrace." I told them how the gracious hand of my God had been on me, and what the king had said to me. They said, "Let's start rebuilding," and they were encouraged to do this good work.
Nehemiah 2:17-18 HCSB
Nehemiah's Reflections of Messiah & Restoration
… and that he may send the Messiah, who has been appointed for you—even Jesus. Heaven must receive him until the time comes for God to restore everything, as he promised long ago through his holy prophets. Acts 3:20-21 NIV
Nehemiah was a leader, not a prophet; he did not foresee or prophesy, but did what was in front of him to do in faithfulness, all the while embodying the work of the Lord. He was the reflection of Messiah. He shows us the pattern of God's faithful restoration, and the brilliance of every detail.
Nehemiah's story can be understood as a pattern of the restoration to come, where the Messiah, the Lord Jesus Christ, returns to rebuild breaches and brokenness, to behold Revelation's radiant city, established livelihoods in the law of the Lord, peaceful and prosperous.
Lord, save us!
Lord, grant us success!
Psalm 118:25 NIV
"Hosanna!
Blessed is the one who comes in the name of the Lord!
Blessed is the coming kingdom of our ancestor David!
Hosanna in the highest heaven!"
Mark 11:8-10 NRSV
Further Study: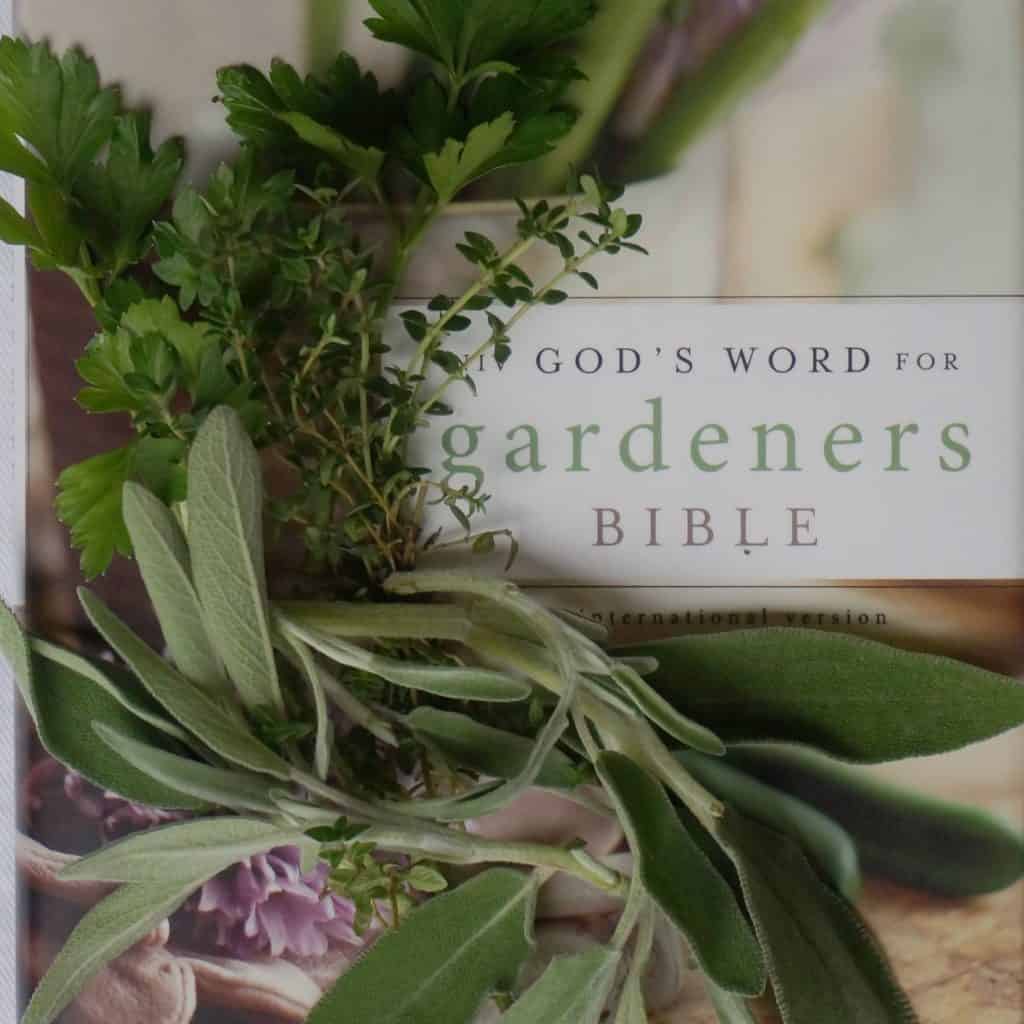 Dig into more devotions in the Garden Stories section of God's Word for Gardeners Bible on Sun and Shade, featuring a study of citron, beginning on page a-43; and Harvest of Righteousness, featuring date palm on page a-47. Find more on myrtle in Propagating, page a-30 from the Garden Work section. For readings on the Feasts, and their patterns in Christ's resurrection and second coming, see Celebrating the Harvest, page a-36
For more design ideas on plants related to the Feast of Tabernacles, click this selection of Devotions Blogs
See the Plant Index for a complete list of all the mentions of plants in God's Word for Gardeners Bible, www.gardenindelight.com/plant-index-gods-word-for-gardeners/
See a Biblical plant bibliography in Plant Resources, with more links to cultural information, www.gardenindelight.com/plant-resources/
Photo Credits & sketches
©2018-2020 Shelley S. Cramm