We all love our amber waves of grain, but did you know wheat comes in blue? When I first saw Utrecht Blue wheat offered by Botanical Interests seed company, I was an instant fan! I love to interweave plants of the Bible in garden design, and thought this would be a whimsical way to grow one of the most elemental Biblical crops mentioned many times in Scripture.
He grants peace to your borders and satisfies you with the finest of wheat.
Psalm 147:14 NIV
But its role in the Feast of Weeks celebration will be our botanical interest for now.
Festival Wheat
If I did not know it was the season for Shavuot and Pentecost, my garden has reminded me: the wheat is ready! I was tickled to discover a few Utrecht Blues had formed by the very end of May. The heads continued to emerge, fully exposing the spikelets, and they began to tilt their head by the end of last week. Shavuot and Pentecost were celebrated last weekend, perfect timing!
Celebrate the Festival of Weeks with the firstfruits of the wheat harvest
Exodus 34:22 NIV
Count off fifty days up to the day after the seventh Sabbath, and then present an offering of new grain to the LORD. From wherever you are bring two loaves of an ephaph of finest flour, baked with yeast, as a wave offering of firstfruits to the LORD.
Leviticus 23:16-17 NIV
The revelation of God's timing is no surprise in a feast named in time: Festival of Weeks, that is, seven weeks from Passover; or Pentecost, that is, "fifty days" in the Greek language, the number of days in the seven weeks, plus one more day to hold the celebration.
Days and weeks and their unfolding events in our lives may seem to be passing without pattern or coordination. Yet in beautiful, uncanny coincidence, this feast first mandated by the LORD became, as tradition holds, the appointed time when the Israelites received the holy Word, or Torah…
Mount Sinai was covered with smoke, because the Lord descended on it in fire. The smoke billowed up from it like smoke from a furnace, and the whole mountain trembled violently. As the sound of the trumpet grew louder and louder, Moses spoke and the voice of God answered him. The Lord descended to the top of Mount Sinai and called Moses to the top of the mountain.
Exodus 19:18-20 NIV
Then the Lord said to Moses, "Write down these words, for in accordance with these words I have made a covenant with you and with Israel."
Exodus 34:27 NIV
…and the followers of Christ received the Holy Spirit, 30 generations later:
When the day of Pentecost came, they were all together in one place. Suddenly a sound like the blowing of a violent wind came from heaven and filled the whole house where they were sitting. They saw what seemed to be tongues of fire that separated and came to rest on each of them. All of them were filled with the Holy Spirit and began to speak in other tongues as the Spirit enabled them.
Acts 2:1-4 NIV
God's Word and His Spirit work in concert to make us holy, as He is holy, a work unfolding over time.
…let yourselves be pulled into a way of life shaped by God's life, a life energetic and blazing with holiness. God said, "I am holy; you be holy."
1 Peter 1:16 The Message
A Gardener Grows Wheat
While growing wheat in a garden will not yield enough for the two loaves of bread to be offered for the feast (Leviticus 23:16), it will produce pretty stalks for the flower arrangements to decorate the table. Utrecht Blue wheat adds a pleasing flourish with its blue-green hues; dry them and tie them in stand-alone bundles or add a few stalks as thriller-drama in flower bouquets.
When gardening with agricultural crops such as wheat, there are a few "issues" to work around. Primarily, the grass family grains are not the most attractive plants; they grow with a bit of gangliness – tall, lanky, a bit haphazard and sparse looking. Like poppies, their awkwardness comes together in good proportion, a captivating sight en masse across large fields, but scaling them to a small garden bed can be more visually challenging.
Remember when you wanted to send your 3 ½ year old to school with a sticker proclaiming, "I dressed myself!" to explain the wild combinations of stylish mismatch? Likewise, I gushed to anyone touring my garden this spring, "These are Biblical grains!" hoping they would see past the lack of grooming to intrigue and delight.
Needless to say, much has been accomplished in the cultivated varieties of the Poaceae family. While I thought the ancient grains would resonate with the current popularity of ornamental grasses, barley and wheat do not grow in predictable, punctuating tufts.
Secondly, once heads are formed, the plants should not receive any watering. Soldier-like, straight-and-tall stalks will bend and bow over in rain and sprinkler spray, without enough geo- or phototropic strength to resume their stature. Therefore, consider sowing wheat kernels out of sprinkler range (like I didn't!), or shutting off the nearest sprinkler head once heads have formed.
More importantly, appreciate the worry our nation's wheat farmers endure in frenzied, stormy spring weather! Scripture captures this harrowing fear as the prophet Samuel calls down rain in response to the Israelites' turn away from the Lord's best for them:
Is it not wheat harvest now? I will call on the LORD to send thunder and rain. And you will realize what an evil thing you did in the eyes of the LORD when you asked for a king.
1 Samuel 12:17
"Pray to the LORD so that we will not die!" they responded, knowing that their wheat crop would be ruined by the timing of the rain, and without the year's supply of wheat flour for bread, they would starve.
God's Perfect Timing
Let us pause to acknowledge that while respecting God's purpose in his timing likely means we will be waiting (ugh!):
On one occasion, while [Jesus] was eating with them, he gave them this command: "Do not leave Jerusalem, but wait for the gift my Father promised, which you have heard me speak about…"
Acts 1:4 NIV
Still, He promises to give us restoration, satisfaction, triumph, and beauty in His perfect timing.
[Yeshua] has to remain in heaven until the time comes for restoring everything, as God said long ago, when he spoke through the holy prophets.
Acts 3:21 CJB
Then you will know that I am Yahweh; and those who wait for me shall not be disappointed.
Isaiah 49:23 WEB
Humble yourselves, therefore, under God's mighty hand, that he may lift you up in due time.
1 Peter 5:6 NIV
Gardening's genius is that we learn to trust timing, its intricacies and wonder, and move into the process. As our hearts become formed by this trusting practice, we are perfectly placed to love the One who created it.
He has made everything beautiful in its time
Ecclesiastes 3:11 RSV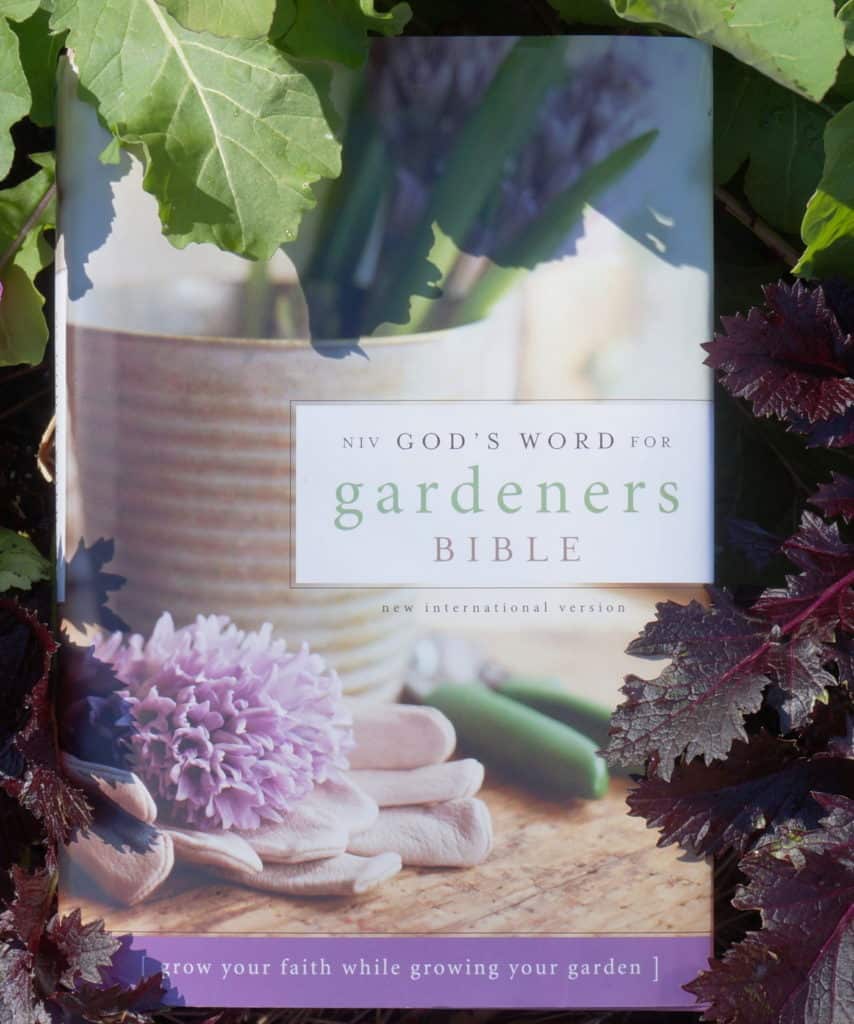 Read more about wheat in God's Word for Gardeners Bible near Leviticus 2 in "Harvest for Holiness," and in Celebrating the Harvest, a week's series of devotions outlined on pages a-36-37
Photo Credits:
©2019 Shelley S. Cramm