Here come the great seasons of thanks and giving! America's tradition of gathering together to celebrate Thanksgiving Day, with Hanakkah and Christmas a little further down the way, promises a glorious expression of the psalmist's sentiment:
Save us, O Lord our God,
and gather us from among the nations,
that we may give thanks to your holy name
and glory in your praise.
Psalm 106:47 NRSVCE
What might be a gardener's response to the feasting joys ahead? Plant herbs, of course! A maturing herb garden will season turkey and side dishes with fresh garden goodness. Sage, parsley, and thyme are a simple place to start, sure to yield a savory spread. At least that was my hope in our first time to host family Thanksgiving dinner!
Growing the Herb Garden
I remember relishing the chance to get out to the garden center and plan our meal from the ground up. The parsley established well, hardy as fall temperatures cooled.
The sage thrived! It spread expansively over the summer from its four inch pot to nearly four feet of sprawling, soft green leaves, providing more than enough enthralling flavor for the stuffing and gravy.
Wait…where did the thyme go? I anticipated the pungent thyme to enhance turkey's subtle taste and to decorate our serving plates with little woodsy sprigs. Yet the plant's petite habit and slower growth were smothered by the vigorous sage. The plant perished. sigh. It seems thyme needed space.
…he is patient with you, not wanting anyone to perish.
2 Peter 3:9 NIV
God isn't late with his promise as some measure lateness. He is restraining himself on account of you, holding back the End because he doesn't want anyone lost.
He's giving everyone space and time to change.
2 Peter 3:9 The Message
O dear, what if this horticultural drama was a hint of family drama to come? Was I likewise unrestrained, stretched to smother with opinions, grumbles, and stale grievances? Soon our guests would fill our home, was I prepared to receive them with a demeanor as pleasing as the meal I hoped to prepare? My usual worrisome ways were taking hold, I felt fresh out of patience.
Growing a Grown-Up Heart
Yet our Lord is gentlemanly, bearing with us, giving us the time and space to grow in Him. Like a farmer, God waits for the precious crop of our grown-up hearts, ready to appreciate who he is and what he is doing.
Be patient, therefore, beloved, until the coming of the Lord. The farmer waits for the precious crop from the earth, being patient with it until it receives the early and the late rains. You also must be patient. Strengthen your hearts, for the coming of the Lord is near. Beloved, do not grumble against one another, so that you may not be judged. See, the Judge is standing at the doors!
James 5:7-9 NRSVCE
Turning to Him for help, glimpsing more and more of his gracious, enduring love, we become established in praising him, growing in our thankfulness that he saves us and gathers us close to him. This growth is not to be rushed; it matures in its own time. In turn, we are filled with such patience and gentleness for our loved ones as God gives to each of us.
The Greatest Family Tradition
The greatest family tradition—feast freshly seasoned by an herb garden notwithstanding!—is learning to be simply thankful for loved ones who are with us, accepting their anxiety, giving them the "thyme" and space to grow through their struggles and defeats. By God's grace, our crowding ways of sprawling judgments and smothering self-centeredness can be overcome, as we keep growing, too.
Prayer: Thank you, God, for all the blessings you put in our lives. You know us personally, you treat us patiently, and you don't want any of us to perish. A heart full of thanksgiving leads us into a deeper relationship with you and loving, steadfast family relationships that are grounded in you. May all our traditions praise and honor you, O Lord. May we see you standing at the door!
Praise the Lord!
O give thanks to the Lord, for he is good;
for his steadfast love endures forever…
Blessed be the Lord, the God of Israel,
from everlasting to everlasting.
And let all the people say, "Amen."
Praise the Lord!
Psalm 106:1…48 NRSVCE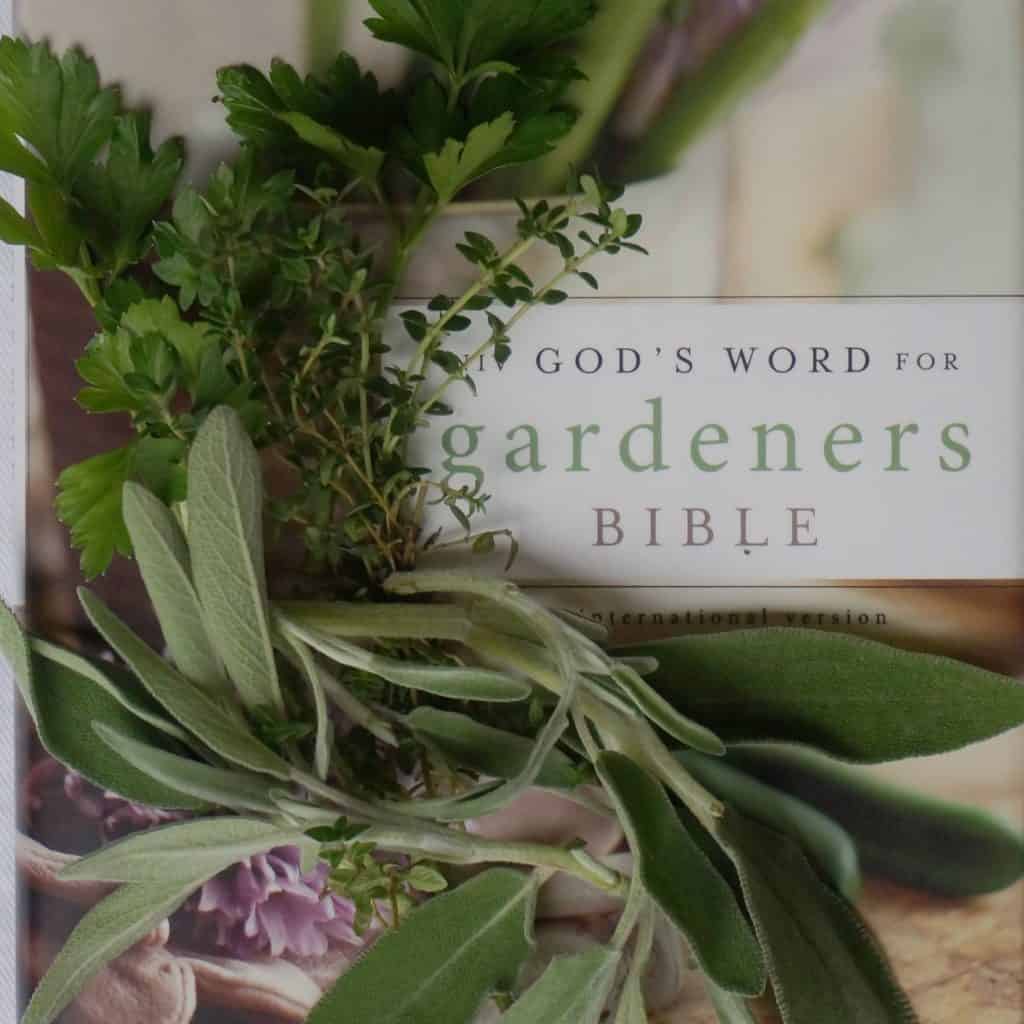 This essay is rewritten from "Thyme Needs Space," part of the Thanksgiving series of devotions in Garden Tools, featured in God's Word for Gardeners Bible, pages a-39 & a-40
Interested in adding plants of the Bible to your herb garden? Visit our Plant Guide:
www.gardenindelight.com/plant-type/herbs/
Photo Credits:
©2019 Shelley S. Cramm