Dear gardeners, let us share in Israel's joy in the best way we know how – a trip to the garden! While the Jewish people are celebrating the Feast of Tabernacles this week, delighting in the great joy of entering God's Presence, let me take you to the Israel Prayer Garden at the Glory of Zion ministry headquarters in Corinth, TX, where a special tranquility will find you.
The following highlights are from my summer visit, hopefully a second-best to sitting down to a table laden with fruitful harvest and sweet fellowship that characterizes this holiday. May these garden views connect us to Scripture and rich gleanings in the Jewish holidays, and form a stronger bond in our minds and hearts between the land and the Word.
Israel Prayer Garden
The Israel Prayer Garden was created 2011, as a response to an encounter between the Lord and the leaders of Glory of Zion ministries. Sensing His urging as they relocated their ministry headquarters, the leaders were astonished to begin the new office's renovation by planting a garden! Yet in a personal patterning of Genesis 2, the Lord gently revealed the way He had for them to get started, like Him, from the ground up—
And the LORD God planted a garden in Eden, in the east; and there he put the man whom he had formed. And out of the ground the LORD God made to grow every tree that is pleasant to the sight and good for food…
Genesis 2:8-9 RSV
Discover the lovely testimony of founding the Israel Prayer Garden in Corinth, TX at www.gloryofzion.org/israel-prayer-garden/
As the founders continued to seek the Lord for direction, the creative idea came to them to overlay the territorial map of the twelve tribes of Israel on the two-acre area along the southeastern border of their property. Each tribe's section of the garden is designated by engraved headstones, and the identities and blessings on the tribes inspire garden design and plant choices in the surrounding section.
There were twelve stones, one for each of the names of the sons of Israel, each engraved like a seal with the name of one of the twelve tribes.
Ezekiel 39:14 NIV
With the Simchat Torah reading this weekend, October 11, 2020, which begins with "This is the Blessing" reading in Deuteronomy 33 of Moses' blessing on the tribes, it seems our blog-trip to the Israel Prayer Garden is very well-timed!
Further reading on the 12 tribes of Israel:
Fruit trees of the seven species are well established throughout the garden: grapevines, fig trees, pomegranates, olive trees, date palm (date "honey" in Scripture). It has been an especially fruitful year for figs! If you catch up with the head gardener, Chris Davidson, he might just give you a hand-picked one to eat!!
For Adonai your God is bringing you into a good land, a land with streams, springs and water welling up from the depths in valleys and on hillsides. It is a land of wheat and barley, grapevines, fig trees and pomegranates; a land of olive oil and honey; a land where you will eat food in abundance and lack nothing in it… So you will eat and be satisfied, and you will bless Adonai your God for the good land he has given you.
Deuteronomy 8:7-10 CJB
I had the humble joy of donating a hyssop plant, Origanum syriacum, to the Israel Prayer Garden, and head gardener Chris Davidson promptly planted it in a stone planter, where its growing boughs of fragrant leaves will soon appear to "grow out of the wall."
Hyssop thrives in bright sun, needs little watering once established, and welcomes bees to the garden throughout the summer as it blooms white, snowflake-like flowers. Learn more about growing hyssop in the Plant Guide, www.gardenindelight.com/plant-guide/hyssop/
He spoke about plant life, from the cedar of Lebanon to the hyssop that grows out of walls.
1 Kings 4:33 NIV
Several fountains throughout the garden remind visitors of the many references to the moment when Moses drew "water from the rock" for the Israelites escaping slavery through the Sinai Desert. The LORD satisfied their thirst, and this historic provision became a sanctified encouragement and a spiritual marker of God's Kingdom.
The Lord said to Moses, "Take the staff, and you and your brother Aaron gather the assembly together. Speak to that rock before their eyes and it will pour out its water. You will bring water out of the rock for the community so they and their livestock can drink."…. Moses raised his arm and struck the rock twice with his staff. Water gushed out, and the community and their livestock drank.
Numbers 20:6-8, 11 NIV
In their hunger you gave them bread from heaven and in their thirst you brought them water from the rock; you told them to go in and take possession of the land you had sworn with uplifted hand to give them.
Nehemiah 9:15 NIV
Tremble, earth, at the presence of the LORD, at the presences of the God of Jacob, who turned the rock into a pool, the hard rock into springs of water.
Psalm 114:7-8 NIV
No one is as holy as Adonai, because there is none to compare with you, no rock like our God
1 Samuel 2:2 CJB

for they drank from the spiritual rock that accompanied them, and that rock was Christ.
1 Corinthians 10:4 NIV

Jesus stood and said in a loud voice, "Let anyone who is thirsty come to me and drink. Whoever believes in me, as Scripture has said, rivers of living water will flow from within them." By this he meant the Spirit, whom those who believed in him were to receive later.
John 7:37-39 NIV

"…whoever drinks the water I give them will never thirst. Indeed, the water I give them will become a spring of water welling up to eternal life."
John 4:14 NIV
Finally, here is my favorite view of the garden, especially timely for this holy week celebrating the Feast of Tabernacles: an otherwise typical garden feature in the distance, a trellis anchoring the center of the greenspace.
However, on closer look, framed by two trees to the east, the structure takes on imagery of a sukkah. Imagine branches covering the trellis above and a table set below, laden with fruits of the harvest, and a feast of loving family fellowship under the losely-covered-in-greenery canopy. The holiday imparts to us our forever shelter in the LORD, though we live temporarily on the earth —as in booths, tents, or tabernacles—and wander from time to time through stretches of wilderness.
The two foreground trees offer a horticultural hint to the canopy of trees in the Garden of Eden, contrasting the passing shelter of the sukkah. The composition points to the eternal life we have in God's Divine Presence, which the story of Eden reassures.
Go out to the mountains, and collect branches of olives, wild olives, myrtles, palms, and other leafy trees to make sukkot, as prescribed.
Nehemiah 8:15 CJB
All native-born Israelites are to live in booths for seven days. I want you to do this so that all present and future generations of your people remember that I sheltered the Israelites in booths like these after I led them out of Egypt. I am the Eternal One, your God.
Leviticus 23:42-43 The Voice
I heard a loud voice out of heaven saying, "Behold, God's dwelling is with people, and he will dwell with them, and they will be his people, and God himself will be with them as their God.
Revelation 21:3 WEB
A-to-Z Primer of Plants from God's Word
What a perfect place to add a little poetry! Sometimes, I think, the best way to move deeper into the truths and delights of God's Word is to hear them recounted in sing-song rhythm. The Hebrew language has a profoundly poetic dimension, often hard to capture in straightforward translation. Learn more about the A-to-Z Primer of Plants from God's Word and find His joys in plants of every letter!
click to see Scriptures links behind the stanzas
is for Israel
a land and a people,
a deeply formed union
like petals cupped in their sepals.
Israel, a son—
whose name became a nation.
Yet establishing this place
has been no vacation!
Instead, a struggle; of course,
we should have known…
born striving at brother's heel
as his mother's labor groaned.
Née Jacob, he grew up focused,
reaching for the best that he saw:
from birthright to heritage blessing
to daughters and flocks of his father-in-law.
And so from one man, Abram,
through his son, Isaac, the movement
passed to the younger son, Jacob.
To God's promise, pursuant:
"I will give this land to your descendants."
Jacob's 12 sons would help with that!
Through jealousy, famine, forgiveness, slavery, wandering,
The Lord God brought them back
to this land: Dan to Beersheba,
its north-south description.
Hills, valleys, ravines, rocky terrain
make up its composition.
To the west, Mediterranean coastline;
to the east, the river Jordan,
connecting Dead Sea to Galilee,
wilderness to well-watered garden.
12-sons' families flourished to tribes,
charming while unruly, a bit undone;
yet prevailing in their fathers' faith:
Hear, O Israel, the Lord your God is One.
The riotous people were given Torah,
laws for living right,
standards for conduct
to shape and form pleasant lives
according to Adonai's ways.
"Be holy because I am holy,"
which included among rules to follow,
three times a year to throw a party!
Celebrating before the LORD,
entering the joy of His Presence
is mandated in His law,
precious product of obedience.
Maintaining the law proved a challenge:
successes alongside failures.
Turns out holiness is hard to reach for,
and this people would need a Savior.
Yet this people, chosen and cherished,
still preserved God's ways and His Word.
Now by humans around the world
the Truth of God will be heard.
And LORD said no matter how scattered
or toward what lands they disperse,
He would gather and replant them,
satisfy and quench their thirst.
To this magnificent heritage,
all will be grafted in, you see;
O Lord, the sweetest possible gift
from a land filled with good, fruiting trees!
For one more Son descends
from this unique line of birth:
God's one and only, Jesus, Yeshua,
Messiah, came fulfilling peace on earth.
No more tussle with the Almighty,
no longer enemy's captive, but God's friend:
the Savior and offspring of Israel,
Son of God, Son of Man
And established by this transaction,
His Spirit to move hearts from the inside:
For all who trust this Son, Immanuel,
in His laws we forever abide.
Throughout this story of fruitfulness
unfolds a metaphor for productivity,
a working, prospering, lawful livelihood,
overcoming to dwell in God's victory.
Peace be on Israel, background rooted in
Torah-stories to nourish, prune, and guide—
to know and believe God has chosen
YOU to be forever at His side.
"You are my witnesses," declares the Lord, "and my servant whom I have chosen, so that you may know and believe me and understand that I am he.
Isaiah 43:10 NIV
Be sure to visit the Israel Prayer Garden on your next trip to Texas! Located along I-35E about 30 minutes northwest of Dallas and 45 minutes northeast of Fort Worth. For visitors information and garden history, go to www.gloryofzion.org/israel-prayer-garden/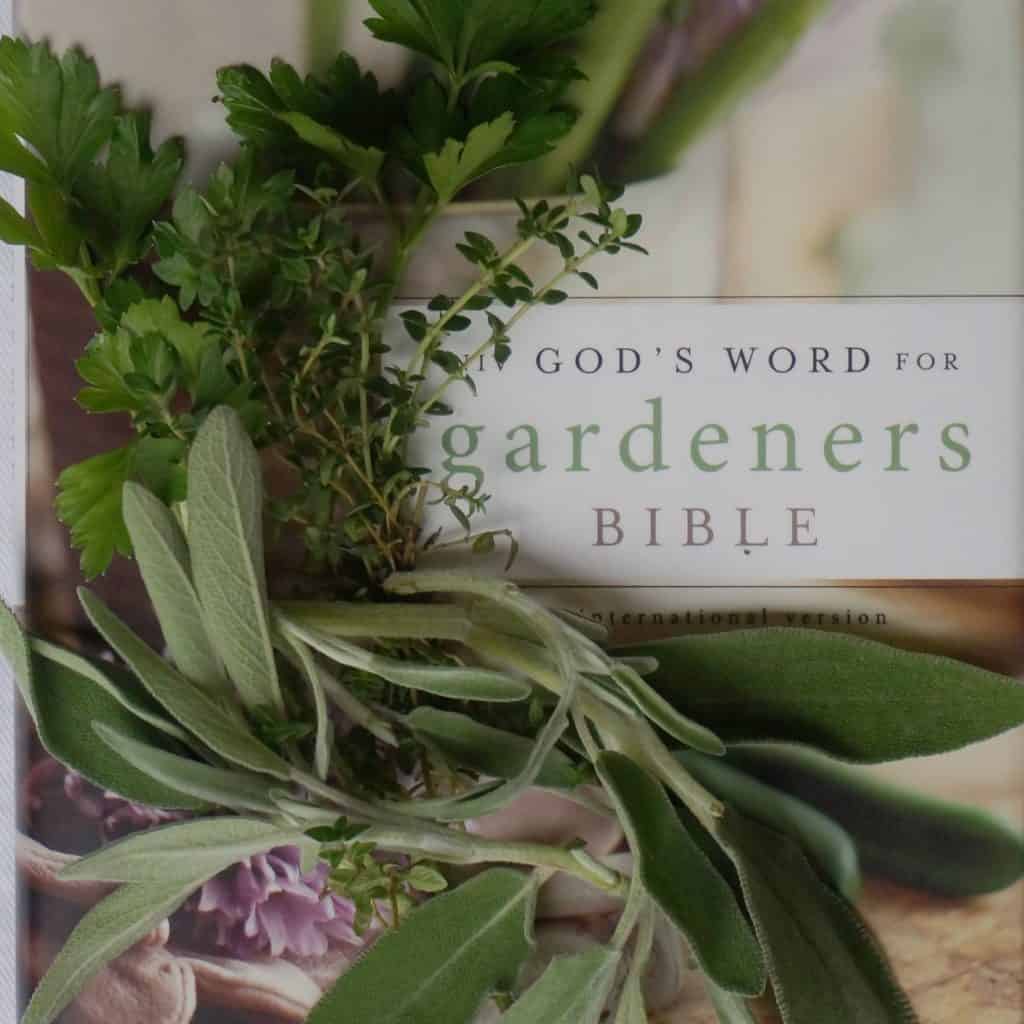 Find more devotions on God's appointed celebrations in God's Word for Gardeners Bible, in Garden Work section on Celebrating the Harvest, beginning on page a-36
Find a rich treasury of heritage and meaning in The Complete Jewish Study Bible, Illuminating the Jewishness of God's Word (Peabody, Mass., Hendrickson Publishers Marketing LLC, 2016). Many thanks to Lisa Rubin at Messianic Jewish Publishers for a personal copy! Visit www.messianicjewish.net/
CJB notes Scripture quotations taken from the Complete Jewish Bible by David H. Stern. Copyright © 1998. All rights reserved. Used by permission of Messianic Jewish Publishers, 6120 Day Long Lane, Clarksville, MD 21029. www.messianicjewish.net.
NIV denotes Scripture quotations taken from the Holy Bible, New International Version®, NIV®. Copyright © 1973, 1978, 1984, 2011 by Biblica, Inc.® Used by permission of Zondervan. All rights reserved worldwide. www.zondervan.com The "NIV" and "New International Version" are trademarks registered in the United States Patent and Trademark Office by Biblica, Inc.®
RSV denotes Scripture quotations taken from the Revised Standard Version of the Bible, copyright © 1946, 1952, and 1971 the Division of Christian Education of the National Council of the Churches of Christ in the United States of America. Used by permission. All rights reserved.
VOICE denotes Scripture quotations taken from The Voice™. Copyright © 2012 by Ecclesia Bible Society. Used by permission. All rights reserved.
WEB denotes the World English Bible which is in the Public Domain
Photo Credits:
©2020 Shelley S. Cramm