"Everyone under their own vine and fig tree" are words made eternal by the Spirit of the Lord, made lyrical by Lin-Manuel Miranda in the Hamilton production, and now made a horticultural joy for every aspiring home gardener by the Southern Living Plant Collection. This trusted brand has recently introduced two new hybrids that make growing this pair more engaging than ever. RazzMatazz™ Seedless Table Grape and 'Little Miss Figgy' Dwarf Fig tree will help you invite a neighbor to sit under your own vine and fig tree.
"On that day," declares the Lord of Armies, "each of you will invite your neighbor to sit under your vine and fig tree."
Zechariah 3:10 GW
Vine and Fig Tree Metaphor
Before digging in to plant this duet in the garden, let's pause in the metaphor and linger in its imagery. Picture the routines of cultivating vines and fruit trees—the slow-paced, attentive movements of watering, visiting, pruning here and there, puttering, pulling weeds, brushing leaves free of pests—all the summer's work of watching over, directing growth, waiting. Then! Fruit matures, eye-catching, becoming vividly colorful, plump…hold back the birds and take in the sweet treats!
This intimate work, this creative work, is described by this metaphor as one's own; it is personal. Individual ownership revealed in these words sings of personal growth, implying improvement, flourish, productivity, a simple, thriving livelihood among neighbors and friends, fellowship among the fruits.
Safety and Peace
The backdrop to life under your own vine and fig tree? Safety and peace. In the three mentions of this metaphor, tranquility is the context—freedom from terror. King Solomon's peaceful reign in Israel was characterized by fruitful citizen homesteads:
Judah and Israel lived safely, and everyone enjoyed their own vine and fig tree from Dan to Beer-sheba through all of Solomon's life.
1 Kings 4:25 ISV
The prophet Micah told of the day coming when wars would cease, swords would be repurposed into plowshares, and:
Everyone will sit under their own vine and under their own fig tree, and no one will make them afraid, for the Lord Almighty has spoken.
Micah 4:4 NIV
Considering the unrest our nation has been enduring, it is more than a make-believe escape to retreat to the yard and garden under your own vine and fig tree, it is a desperate heart cry, a millennial prayer! It is hope in age-old words to yield sure results:
As the rain and snow come down from heaven and stay upon the ground to water the earth, and cause the grain to grow and to produce seed for the farmer and bread for the hungry, so also is my word. I send it out, and it always produces fruit. It shall accomplish all I want it to and prosper everywhere I send it. You will live in joy and peace.
Isaiah 55:10-12 TLB
RazzMatazz™ Seedless Table Grape
Back to gardening! Discovering RazzMatazz™ was the opportunity I had been watching for, an entry point to the mysterious world of vinedressing. I needed a beginner's invitation to cultivate grapes, my attention span too short for knowledgeable pruning and meticulous care. RazzMatazz™ is bred for dependable performance, flowering and producing several crops from late spring through the fall, and is disease resistant.
Read more on RazzMatazz™ Seedless Table Grape from Southern Living Plant Collections
and check availability
This is my first season growing RazzMatazz™. I planted the vine as a focal point between our raised beds, which sadly turned out to be too shady. Full sun would have yielded bigger, more plentiful grapes. I look forward to transplanting it in the fall.
Despite my small beginnings, I have appreciated its faithful reminder: no plant testifies to the intimate relationship and history of God the Father, His Son Jesus, and His people Israel quite like the grapevine.
The vineyard of the Lord Almighty is the nation of Israel, and the people of Judah are the vines he delighted in.
Isaiah 5:7 NIV
[Jesus replied] I am the true Vine, and my Father is the Gardener. He lops off every branch that doesn't produce. And he prunes those branches that bear fruit for even larger crops. He has already tended you by pruning you back for greater strength and usefulness by means of the commands I gave you. Take care to live in me, and let me live in you. For a branch can't produce fruit when severed from the vine. Nor can you be fruitful apart from me. Yes, I am the Vine; you are the branches. Whoever lives in me and I in him shall produce a large crop of fruit. For apart from me you can't do a thing.
John 15:1-5 TLB
'Little Miss Figgy' Dwarf Fig
As I reported last fall, 'Little Miss Figgy' is an excellent choice for growing your own fig tree, especially if your garden is a patio, front porch, rooftop, or balcony. This dwarf tree reaches a modest height of 6 feet, unlike full size trees which billow to 20 feet or more. She is happy as a potted tree, in case you are a northern gardener needing to move the tree to winter shelter.
Read "A Patio Romance: Little Miss Figgy' meets Peppy LePom™ from the Devotions Blog
Read more on 'Little Miss Figgy' Dwarf Fig from Southern Living Plant Collections
and check availability
This is my first summer with 'Little Miss Figgy,'which transplanted very well into a larger pot late in our mild winter, and endured my dog's chewing several of her bare branches. Fig wood is tasty?? I am still awaiting a first crop of fruit. Yikes, don't let Jesus see my unfruitful tree!
No plant relays the story of mankind's downfall and God's fury for us to have faith in Him for all that we need quite like the fig tree.
Then their eyes were opened, and they both realized that they were naked. They sewed fig leaves together and made clothes for themselves.
Genesis 3:7 GW
The next day, as they were leaving Bethany, Jesus became hungry. Seeing in the distance a fig tree covered with leaves, he went to see if he could find anything on it. When he came to it, he found nothing except leaves because it wasn't the season for figs. So he told it, "May no one ever eat fruit from you again!" Now his disciples were listening to this…While they were walking along early the next morning, they saw the fig tree dried up to its roots. Remembering what Jesus had said, Peter pointed out to him, "Rabbi, look! The fig tree you cursed has dried up!" Jesus told his disciples, "Have faith in God! … That is why I tell you, whatever you ask for in prayer, believe that you have received it and it will be yours.
Mark 11:12-14, 20-21, 24 ISV
Moved to Prayer
Let this fruitful pair be our call to garden prayer, prompted by their daily care to persistently ask for safety and peace.
Prayer: O Lord, restore our nation to having a common mind and a common purpose (1 Corinthians 1:10 CJB) and let the shelter of every citizen's garden be instrumental in moving us in the direction of national healing, beginning with mine. Reveal yourself under everyone's own vine and fig tree, and may Your fellowship bond us together, neighbor to neighbor, "from sea to shining sea."
Acknowledgements & Credits
Visit www.southernlivingplants.com for more information on RazzMatazz™ Seedless Table Grape
and 'Little Miss Figgy' Dwarf Fig
Many thanks to Plant Development Services, Inc. for supplying the vine and fig tree for this article at my request, and for your unwavering support of GardenComm, Garden Communicators International, where we first met.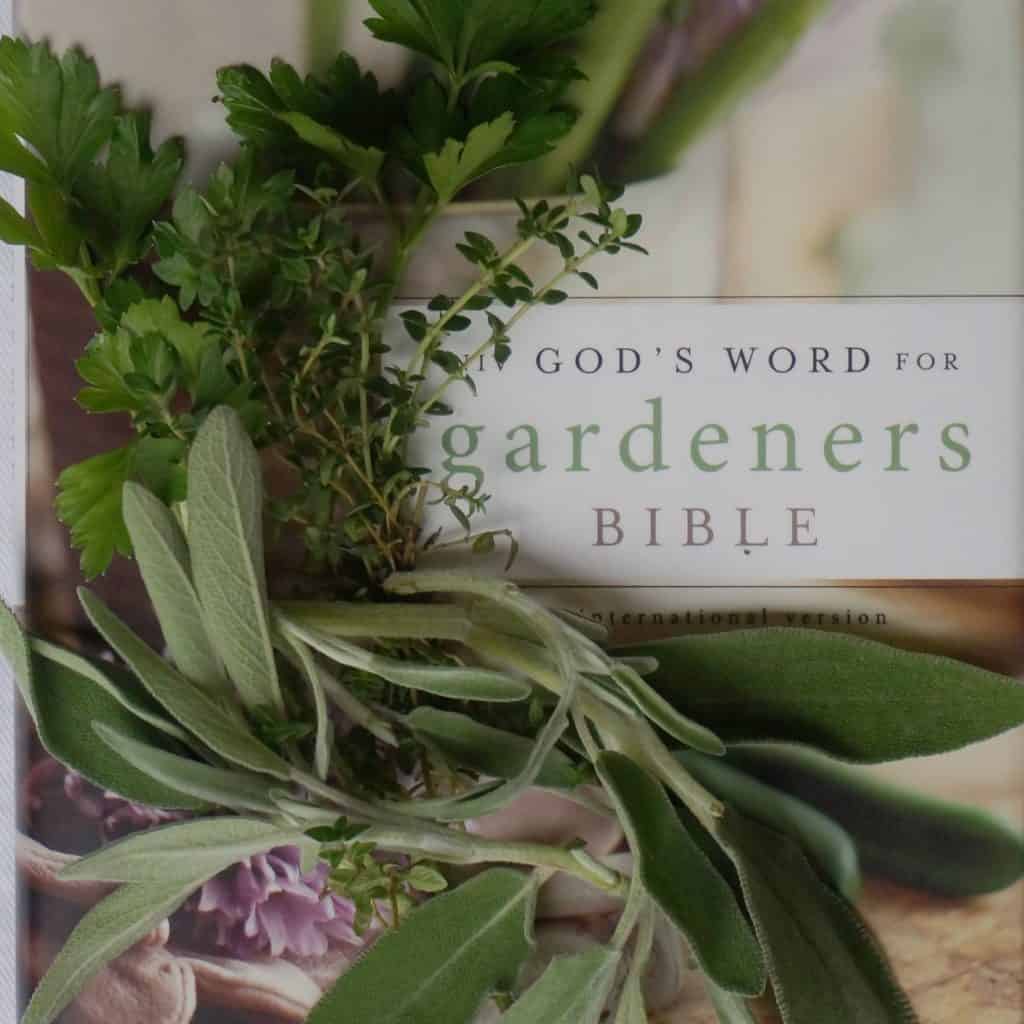 Find grapevines in God's Word for Gardeners Bible in essays on Away from the Last Supper, part of the Garden Stories section, page a-46. Vines are also among "The Seven Species" of the Promised Land, part of the Garden Tour, pages a-15 & a-16
Find figs in God's Word for Gardeners Bible in the landscapes of the Garden of Eden, pages a-12 & a-13, and the Promised Land, pages a-15 & a-16, part of the Garden Tour section of devotions. Also figs are found in Israel's Horticultural Allegories, pages a-45 & a-46 in Garden Stories
Photo Credits:
©2019-2020 Shelley S. Cramm
Quotation Credits:
"…under their own vine and fig tree" sung by George Washington's character in "One Last Time," Act II of Hamilton the Musical, www.hamiltonmusical.com. All songs music & lyrics by Lin-Manuel Miranda ©5000 Broadway Music (ASCAP) administered by WB Music Corp.
"from sea to shining sea" lyrics from "America the Beautiful," by Katharine Lee Bates, from a revised poem published in 1904. I believe these words have become our American equivalent of "from Dan to Beersheba," written in 1 Kings 4:25 and many more, an expression to convey an occurrence of something everywhere throughout the country. In Hebrew, this form of idiom is called "merism," using to extremes to indicate the wide expanse of everything in between.
Scripture quotations marked GW taken from GOD'S WORD Translation, Copyright © 1995 by God's Word to the Nations. Used by permission of God's Word Mission Society.
Scripture quotations marked ISV are from International Standard Version, Copyright © 1995-2014 by ISV Foundation. ALL RIGHTS RESERVED INTERNATIONALLY. Used by permission of Davidson Press, LLC.
Scripture quotations marked NIV are from New International Version, Copyright © 1973, 1978, 1984, 2011 by Biblica
Scripture quotations marked TLB are from The Living Bible, copyright © 1971 by Tyndale House Foundation. Used by permission of Tyndale House Publishers Inc., Carol Stream, Illinois 60188. All rights reserved.