Our journey to find garden hope begins in Psalm 146—in hopeless places. These Words lead us into life's deepest sorrows, the painful, woeful conditions that rub raw the very knowing of who we are and what we hold onto. Let the Gardener-Lord meet us in somber, despairing depths with the resounding reality that personal traumas are precisely where God brings His blessing of hope.
Blessed are those whose help is the God of Jacob, whose hope is in the Lord their God.
He is the Maker of heaven and earth, the sea, and everything in them—he remains faithful forever.
He upholds the cause of the oppressed and gives food to the hungry.
The Lord sets prisoners free, the Lord gives sight to the blind, the Lord lifts up those who are bowed down, the Lord loves the righteous.
The Lord watches over the foreigner and sustains the fatherless and the widow, but he frustrates the ways of the wicked.
The Lord reigns forever, your God, O Zion, for all generations. Praise the Lord.
Psalm 146:5-10 NIV
Oppressed — those living and working in unjust situations, treated unfairly, given no dignity.
Hungry — desperate to eat, no money for food, no energy to sauté even dandelion greens, cut off from the bounty of the earth, deprivation creating constant, haunting tension.
Prisoner — confined rightfully or not, held on hard surfaces by hardened hearts, dull and dismal.
Blind — without privilege to the great joys in pleasing sights, colors, forms and dimensions, whether found in the environment or found in the heart, for spiritual blindness is the worst.
Fallen — stumbled, staggering, strength stolen, physically faltering; robbed of stamina, taken out of the fight.
Foreigner — surrounded in strangeness, missing clues and connection to culture, disoriented, isolated by the inside jokes of idiom.
Fatherless — missing validation, reassurance, direction, help and belonging to someone as their most precious gem.
Widow — a half with a hole, a stem without its roots, a gardener without a garden, suffering a severance tearing through the heart.
Find Garden Hope
Who can endure downtrodden existence with uplifted spirit? Those who hope in the Lord. How does one endure death and dead-end ways all around them without dying themselves? By the blessing of hope in the Lord.
Our faith in Jesus transfers God's righteousness to us and he now declares us flawless in his eyes.[a] This means we can now enjoy true and lasting peace[b] with God, all because of what our Lord Jesus, the Anointed One, has done for us. Our faith guarantees us permanent access into this marvelous kindness[c] that has given us a perfect relationship with God. What incredible joy bursts forth within us as we keep on celebrating our hope of experiencing God's glory!
But that's not all! Even in times of trouble we have a joyful confidence, knowing that our pressures will develop in us patient endurance. And patient endurance will refine our character, and proven character leads us back to hope. And this hope is not a disappointing fantasy,[d] because we can now experience the endless love of God cascading into our hearts through the Holy Spirit who lives in us![e]
Romans 5:1-5 TPT
With God, hope flourishes in suffering with perseverance and character, and a growing embrace of God's love and marvelous kindness, poured out long ago and constantly.
To the eye of the gardener snow is no winding sheet, none of the covering of death; it is the warm wrapping mantle of beauty asleep. How can those who do not garden . . . keep warm their hearts in winter? They are as those who have no hope.
— Mrs. Francis King, Pages From a Garden Note-Book, 1921
Only God, that desert-blooming, magnificent Maker, will hold onto us through any trauma, tragedy, and suffering loss. He remains faithful forever; he is there to uphold, lift up, sustain, watch over, and give a gracious outcome to every humbling event we suffer. No matter where He begins, He always moves toward glorious rejoicing:
The desert and the parched land will be glad; the wilderness will rejoice and blossom.
Like the crocus, it will burst into bloom; it will rejoice greatly and shout for joy.
The glory of Lebanon will be given to it, the splendor of Carmel and Sharon;
they will see the glory of the Lord, the splendor of our God.
Strengthen the feeble hands, steady the knees that give way; say to those with fearful hearts,
"Be strong, do not fear; your God will come, he will come with vengeance; with divine retribution he will come to save you."
Isaiah 35:1-4 NIV
Prayer: O Lord, let me turn to You in every despair. Help me to see that turning to You is choosing not to be hopeless, but embracing the One who will make me strong and unafraid. You will wait with me while you divinely overturn things; you will come to save me, for you are my Savior (Isaiah 35:4). Flood me heart and mind with productive Words and a puttering singsong — let everything in me become hope-FULL.
Guide me in your truth and teach me, for you are God my Savior, and my hope is in you all day long.
Psalm 25:5 NIV 
Linger in these Hope-Full passages:
Psalm 146:1-10, Psalm 25:1-5, Isaiah 35:1-7 , Romans 5:1-5
Hope is a garden defined! By its very working, the garden gives us something to look forward to — a good, glorious growth taking place or soon to dazzle us, one that lifts our hearts whenever we imagine it. Find Garden Hope is a 7-part devotional series for the Lenten season, matching God's Word to garden antics and imagery and preparing our hearts to celebrate Christ's resurrection with deeper union and delight.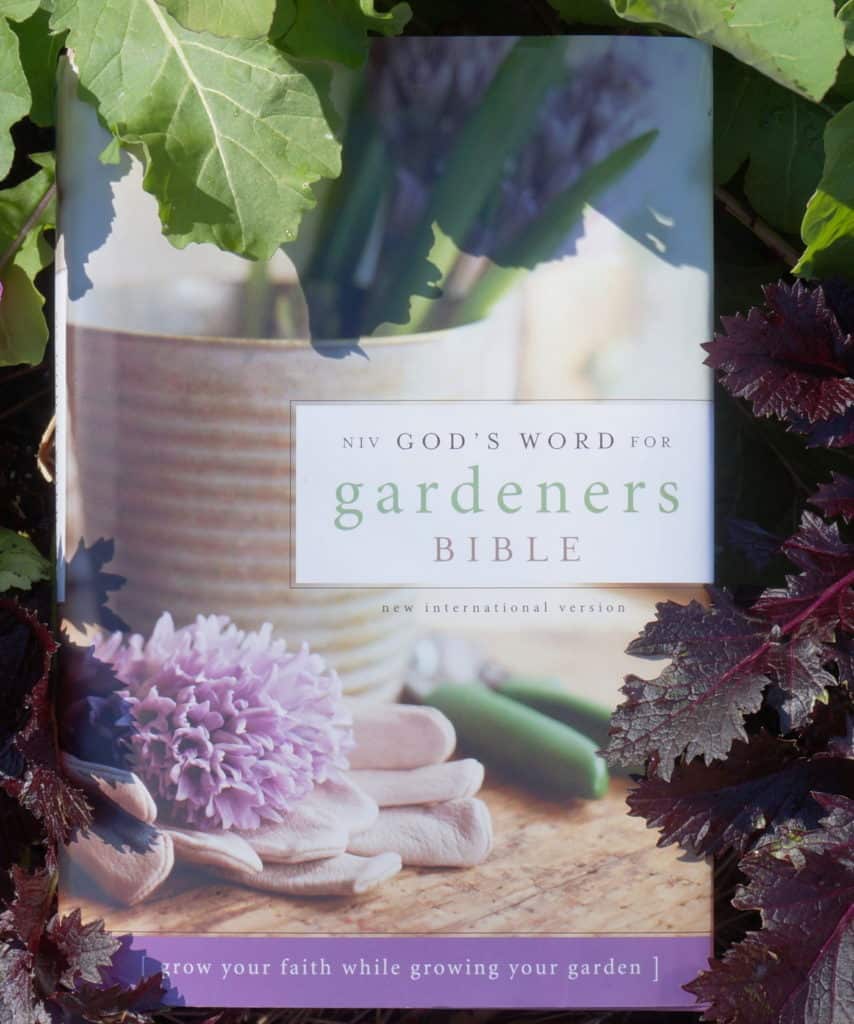 The devotional essays of Find Garden Hope were originally published in the "Garden Tools" section of God's Word for Gardeners Bible under Hope, ©2014 Shelley S. Cramm. See page a-40 to study by the Book.
Photo Credits:
©2021 Shelley S. Cramm Our Texas garden is snow covered! Coincidentally-timed for the first of this Lenten series with the snow-garden quotation!
Find Garden Hope meme featured Narcissus tazetta 'minnow' from our garden in 2019
NIV denotes Scripture quotations taken from the Holy Bible, New International Version®, NIV®. Copyright © 1973, 1978, 1984, 2011 by Biblica, Inc.® Used by permission of Zondervan. All rights reserved worldwide. www.zondervan.com The "NIV" and "New International Version" are trademarks registered in the United States Patent and Trademark Office by Biblica, Inc.®
TPT denotes Scripture quotations taken from The Passion Translation®. Copyright © 2017, 2018 by Passion & Fire Ministries, Inc. Used by permission. All rights reserved. ThePassionTranslation.com 
Footnotes:
a.Romans 5:1 Or "having already been declared righteous." What bliss! We are declared righteous in the eyes of the Holy God. This is the wonder of grace!
b.Romans 5:1 Or "Let us enjoy peace with God." The Greek word for peace is eirene and can also mean "to join" (as in a dove-tail joint). We have entered into the union of our lives with God's peace and enjoy lasting friendship with God. The Hebrew word is shalom, which means abundant peace and well-being.
c.Romans 5:2 Or "grace."
d.Romans 5:5 Or "This hope does not put one to shame."
e.Romans 5:5 Or "was given to us."