Did you know a Bible garden's spring-to-summer flower display blooms red, white, and blue? What fun to explore this patriotic floral show tucked in the botany of the Bible during American Flowers Week. American Flowers Week is a special campaign leading up to July 4th to spotlight American grown flowers and flourish praise on our nation's flower farmers. Be inspired to shop for locally-grown flowers whenever you are ready to bring beauty to table or decorate an event in floral dazzle. Yet noticing flowers in our own gardens, backyards, parks, and regional landscapes is part of the awareness, too…slowing down to appreciate the beauty surrounding us right where we are.
Which led me to realize, as I spied the periwinkle blue, mum look-alikes appearing on our bitter herbs this week, that a garden planted with perennials and self-seeding annuals from the Bible blooms red to white to blue from late winter to start of summer. God bless America! A bright, showy succession of red flowers begins in anemones and tulips, interspersed with chamomile-daisy whites, followed by white lilies and star of Bethlehem, succeeded by starry, blue nigella, with a finale in bitter herbs' chicory and endive dotting their stalks in blue-violet blooms.
The Bible's Red, White and Blue Flowers
Dig in with me to this revealed red, white and blue garden celebration and discover overarching themes of provision, promise, and deliverance. It was these Godly concepts that inspired and sustained our country's founders; their trust in God's faithfulness forged our nation. Let me acquaint you with these flowers so that we may embrace the truths to which their colors connect us, a rich, nourishing heritage in the Lord.
Blooming Red: Crown Anemones
Crown anemones, Anemone coronaria, grow as wildflowers in Israel, available to home gardeners in the U.S. as bulbs or corms for fall planting and as 4 inch pots to transplant in early spring. I love to grow these cheery flowers; their tufts of vibrant, parsley-like foliage appear first, bringing back splashes of green to a mulch-protected winter landscape.
Before long, flower stalks shoot up, one big flower per stem, and the anticipation for flowers to unfurl enlivens the late-winter chill. Once flowers burst open, it is a tough decision whether to let them beautify the yard or enjoy them in indoor arrangements, so plant plenty!
Jesus reassured his followers not to worry, his Words going out over a flower-filled view of red crown anemones, most scholars believe.
Then Jesus said to his disciples: "Therefore I tell you, do not worry about your life, what you will eat; or about your body, what you will wear. For life is more than food, and the body more than clothes… Consider how the wild flowers grow. They do not labor or spin. Yet I tell you, not even Solomon in all his splendor was dressed like one of these. If that is how God clothes the grass of the field, which is here today, and tomorrow is thrown into the fire, how much more will he clothe you—you of little faith! And do not set your heart on what you will eat or drink; do not worry about it. For the pagan world runs after all such things, and your Father knows that you need them.   Luke 12:22-23, 27-30 NIV
The moments spent gazing at these gorgeous flowers will displace worry, I promise! The flowers impart confidence and triumph, qualities Jesus wanted his followers to take to heart—confidence in God the Father, His generosity and kindness, His attention and intention to take care of what we need.
Tulips and poppies are also a red flower choice for a Bible garden
For more information on growing crown anemones, see the Plant Guide www.gardenindelight.com/plant-guide/crown-anemone/
Blooming White: Star of Bethlehem
How poignant then, that the little white flowers to bloom next in a spring Bible garden are dove's dung, or star of Bethlehem, Ornithogalum umbellatum. They plunge us into an outrageous situation in Scripture, one that required confidence and extreme trust in God's power to provide.
So there was a severe famine in Samaria; and behold, they kept besieging it until a donkey's head was sold for eighty shekels of silver, and a fourth of a kab of dove's dung for five shekels of silver.  2 Kings 6:25 NASB
"Dove's dung," taken from the Hebrew name of this flower, dibyown, known to gardeners as star of Bethlehem, is mentioned in this drastic situation as a marker of the ridiculously inflated economy, where bread was being made from flower bulb flour (please do not try this at home!!). The siege against Samaria called for confidence and faith in God's victory, trusting God's provision, promise, and possibility. Sure enough, the prophet Elisha received Word that the Lord would return the absurd market conditions to normal…
It happened as the man of God had said to the king: "About this time tomorrow, a seah of the finest flour will sell for a shekel and two seahs of barley for a shekel at the gate of Samaria." 2 Kings 7:18 NIV
…and He did. The Samarians were delivered from the oppressing army; their blockade ended and the local economy was restored quickly. These two flower stories resound God's provision; not only His attention to common needs, but His deliverance and restoration in dire circumstances.
Star of Bethlehem are planted as bulbs in late fall—with a word of caution. These bright stars can become invading multitudes in mid-Atlantic and northern gardens, so beware. However, in my southwestern yard, they seem content to remain where planted and return each year for gentle gazing. Grass-like leaves emerge in early spring, yet flowers pause a month or two to bloom, star-bright and worth the wait.
Chamomile and lilies are other possibilities for white flower blooming in a spring Bible garden.
Learn more about growing star of Bethlehem in our Plant Guide, www.gardenindelight.com/plant-guide/star-of-bethlehem
Blooming Blue: Nigella
By the time the star of Bethlehem fade, starry nigella, Nigella sativa, are ready to flourish and fill the garden with dreamy blooms. Closely resembling love-in-a mist, nigella grow easily from seed scattered directly in beds before winter snows. Seedlings stay a modest height in cool temperatures; as spring warms to summer, stalks rise up and produce a profusion of flowers in a cloud-like habit. Sky blue to brushed pale flowers speckle their feathered greenery, a pretty blessing to the passing season and lovely as cut flowers.
They point us back poetically to the thorough provision of the Lord, glimpsing His magnificence through His detailed agricultural understanding, for us to realize how much more God knows the details of our lives and what we need.
"Pay attention! Listen to what I have to say; Pay attention, and hear my speech. Does he who plows for sowing plow all the time? Does he keep on breaking up and harrowing his field? When he has leveled its surface, he scatters [nigella] and sows cumin, doesn't he? He plants wheat in rows, barley in its designated place, and feed for livestock[d] around its borders,[e] doesn't he? His God instructs him regarding the correct way, directing him how to plant.[f] Isaiah 28:23-26 ISV
Nigella is a little-known species, generally mistranslated in Scripture. Don't let its obscurity keep you from growing these delightful flowers! Let them linger to form seed pods, which make equally interesting components to floral design. It was American Flowers Week founder Debra Prinzing who taught me to watch for more unusual botanical elements—seed pods, striking foliage, uniquely-formed twigs and branches—to create artisanal, homegrown beauty in bouquets. However, leave enough seed pods standing in the garden to reseed the flowers for next year.
Learn more about growing nigella, including its use as a spice, in the Plant Guide, www.gardenindelight.com/plant-guide/nigella/
Blue Bonus: Bitter Herbs
An extra flush of blooms in an early summer Bible garden are the pretty, periwinkle-blue chicory and endive flowers. Rising temperatures cause these greens to bolt, and the stalks they send up are dotted with precarious, bloom-for-a-day flowers. Never mind that the plants take on an erratic form; let the flowers mesmerize you with patriotic color, all the while reseeding for next year.
No surprise, these flowers also connect us to God's provision, and another dramatic deliverance—the all-time, freedom-winning story of Passover when God heard the bitter cries of His people and delivered them from slavery.
The Lord said, "I have indeed seen the misery of my people in Egypt. I have heard them crying out because of their slave drivers, and I am concerned about their suffering. So I have come down to rescue them from the hand of the Egyptians and to bring them up out of that land into a good and spacious land, a land flowing with milk and honey…"  Exodus 3:7-8 NIV
Bitter herbs, that is, leafy, salad-type greens with an acrid taste, were instructed to be part of the meal the Israelites ate before their liberation by the Lord…
That same night they are to eat the meat roasted over the fire, along with bitter herbs, and bread made without yeast Exodus 12:8 NIV
…memorializing God's concern for their bitter hardship and his attention to every tear cried in anguish. There is no crying when it comes to growing these plants in the garden, however! They grow readily from seed, or transplant with little trouble from 4 inch pots. Many colorful cultivars are available to dress up garden beds and salads with variety and style.
Chicories, Cichorium intybus and endive, Cichorium endivia, are hardy, pest-free, deliciously fresh additions to every salad mix or stewed greens side dish through a mild winter and cool spring. Just as July 4th arrives, their summer flower show ushers us into a finale of patriotic color and draws us closer to the roots of celebrating our nation's freedom—God's freedom.
Learn more about growing bitter herbs in the Plant Guide, www.gardenindelight.com/plant-type/bitter-herbs/
Prayer: O God, you amaze me in the way you constantly tell me a story—Your story, Your promise to tend to my needs, care for what concerns me, and lead me to live in the freedom you won for me. I praise you for your faithfulness and creativity! Considering these plants from a new viewpoint, the colors of their unfolding flowers, has given me a fresh love for freedom and special endearment for the red, white, and blue. Thank you, Lord! Bless me to displace worry with your wisdom and wonderful counsel (Isaiah 28:29), and bless our nation's flower farmers even more! Fill their minds with agricultural instruction, let your favor fall on their livelihoods, and grant them flourishing success. Amen.
Blessed is the nation whose God is the Lord. Psalm 33:12 NIV
Learn more about American Flowers Week and find a directory of florists sourcing American-grown flowers at Americanflowersweek.comhttps://americanflowersweek.com/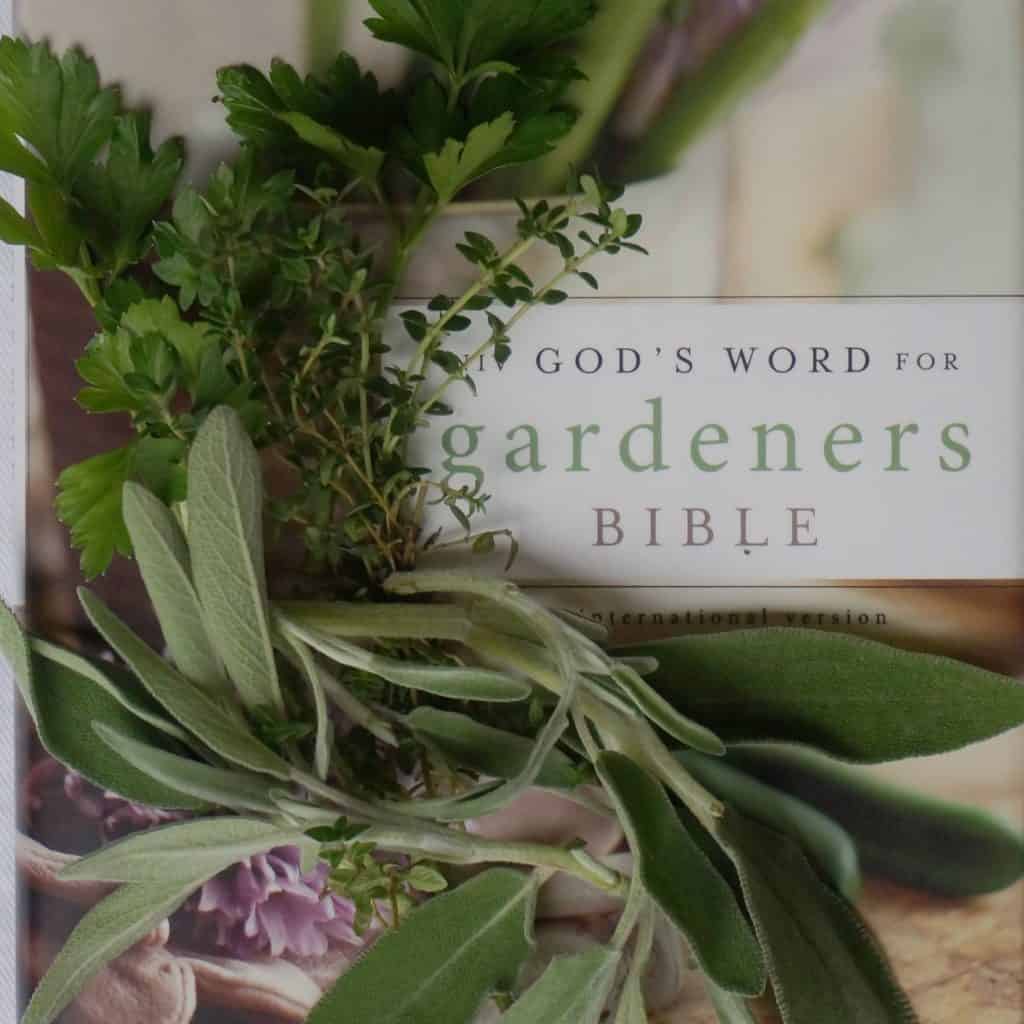 Read more devotions on the Bible's red, white, and blue flowers in God's Word for Gardeners Bible: crown anemones in "Flowers and Faithfulness" near Luke 12:27, page 1173; star of Bethlehem in "Bethlehem's Star" near 2 Kings 6:25, page 426; nigella in "He Knows" near Isaiah 28:29, page 795; and bitter herbs in "Bitter Beginnings" near Numbers 9:11, page 174
Find more information on growing the Bible's red, white, and blue flowers in the Plant Guide
Photo Credits: ©2016-2021 Shelley S. Cramm
Red crown anemones for sale at a local farmers market in New York City
Garden flower photos taken in our Texas yard over the years
This year was a first, being able to have red crown anemones and blue nigella in one bouquet – usually they bloom in succeeding times – a special treat from our wacky weather this winter and spring picked for the National Day of Prayer, May 4th
ERV denotes Scripture quotations taken from the HOLY BIBLE: EASY-TO-READ VERSION © 2014 by Bible League International. Used by permission.
ISV denotes Scripture quotations from The Holy Bible: International Standard Version. Release 2.0, Build 2015.02.09. Copyright © 1995-2014 by ISV Foundation. ALL RIGHTS RESERVED INTERNATIONALLY. Used by permission of Davidson Press, LLC.
LEB denotes Scripture quotations taken from the Lexham English Bible. Copyright 2012 Logos Bible Software. Lexham is a registered trademark of Logos Bible Software.
NASB denotes Scripture quotations taken from the NEW AMERICAN STANDARD BIBLE®, Copyright © 1960,1962,1963,1968,1971,1972,1973,1975,1977,1995 by The Lockman Foundation. Used by permission.
NIV denotes Scripture quotations taken from the Holy Bible, New International Version®, NIV®. Copyright © 1973, 1978, 1984, 2011 by Biblica, Inc.® Used by permission of Zondervan. All rights reserved worldwide. www.zondervan.com The "NIV" and "New International Version" are trademarks registered in the United States Patent and Trademark Office by Biblica, Inc.®
VOICE denotes Scripture quotations taken from The Voice™. Copyright © 2012 by Ecclesia Bible Society. Used by permission. All rights reserved.