"What will you do
with the rue?"
the garden center salesclerk quizzed, as I handed over my 4-inch pots of the enigmatic herb to be rung up.
I replied with the story of my unrelenting passion to plant plants of the Bible, though disappointed that I didn't quip a rhyming response! Rue is a plant poised for homonymic pun, in English anyways, appearing in a Biblical moment of Jesus' rue-thless reprimand.
New to the Plant Guide! Find more on growing Rue at www.gardenindelight.com/plant-guide/rue/
Rue the Day
He was confronting the Pharisees, addressing their conduct: They were not ruling in God's love and justice, implying they would rue the day their hearts went void of God's mercy:
"Woe to you Pharisees, because you give God a tenth of your mint, rue and all other kinds of garden herbs, but you neglect justice and the love of God. You should have practiced the latter without leaving the former undone…"
Luke 11:42 NIV
They were instituted as His representatives but disregarding who He was:
The Lord, the Lord, the compassionate and gracious God, slow to anger, abounding in love and faithfulness, maintaining love to thousands, and forgiving wickedness, rebellion and sin.
Exodus 34:6-7 NIV
Love, mercy, justice, compassion…this is how God's people knew Him:
You, Lord, are forgiving and good, abounding in love to all who call to you.
Psalm 86:5 NIV
Answer me, Lord, out of the goodness of your love; in your great mercy turn to me.
Psalm 69:16 NIV
Have mercy on me, O God, according to your unfailing love; according to your great compassion blot out my transgressions.
Psalm 51:1 NIV
And in turn, the Lord roots His people in His love, in such a way that ritual offerings can never contain or compare:
And I pray that you, being rooted and established in love, may have power, together with all the Lord's holy people, to grasp how wide and long and high and deep is the love of Christ, and to know this love that surpasses knowledge—that you may be filled to the measure of all the fullness of God.
Ephesians 3:17-19 NIV
What to do with Rue
Rue makes an attractive background plant in borders and beds, best grown as an evergreen ornamental. Though it has a long, lore-full history, listed in culinary and medicinal references and Shakespeare's writing, I have yet to find a practical healing application or appealing recipe. Additionally, its leaves must be handled with caution, as compounds from the plant can cause skin blistering if brushed in the sunshine—which it loves. Yet leaving aside its legendary usefulness still leaves us with a lovely garden plant.
Rue makes a beautiful paring with wormwood or Artemisia, both water-wise with grey-green-blue cast to their light, ruffly leaflets; both low-growing into lovely, mounded shrubs. Wormwood, with its Biblical warning of turning away from the Lord (Deuteronomy 29:18), is also a plant of woe:
Woe to those who turn justice into wormwood and cast righteousness to the ground
Amos 5:7 NABRE
Let the graceful appearance of these shrubs lead you back to God's grace; indeed, Shakespeare named rue the "herb of grace."
OPHELIA: There's fennel for you, and columbines. There's rue for you, and here's some for me—we may call it herb of grace o' Sundays. Oh, you must wear your rue with a difference.

William Shakespeare, Hamlet, Act IV, Scene V
Rue the Reminder
Plant rue to remind you: Stay refreshed in God! Return daily…hourly, even…to His loving arms.
Satisfy us in the morning with your unfailing love, that we may sing for joy and be glad all our days.
Psalm 90:14 NIV
But while he was still a long way off, his father saw him and was filled with compassion for him; he ran to his son, threw his arms around him and kissed him.
Luke 15:20 NIV
Recite His ways – don't treat God's work as rumor but recount all the things He has done—that you have witnessed—from rudimentary to remarkable.
The Lord is gracious and righteous; our God is full of compassion. The Lord protects the unwary; when I was brought low, he saved me.
Psalm 116:5-6 NIV
Our mouths were filled with laughter, our tongues with songs of joy. Then it was said among the nations, "The Lord has done great things for them." The Lord has done great things for us, and we are filled with joy.
Psalm 126:2-3 NIV
Never reduce a life of following Him to token affection:
When you come to appear before me, who has asked this of you, this trampling of my courts? Stop bringing meaningless offerings!
Isaiah 1:12-13 NIV
With what shall I come before the Lord and bow down before the exalted God? Shall I come before him with burnt offerings…. He has shown you, O mortal, what is good. And what does the Lord require of you?
To act justly and to love mercy and to walk humbly with your God.
Micah 6:6, 8 NIV
And now, children, stay with Christ. Live deeply in Christ. Then we'll be ready for him when he appears, ready to receive him with open arms
1 John 2:28 The Message
Keep Reading:
Jesus' "rue-thless" reprimand in Luke 11:42 is paralleled in Matthew 23:23, which also names mint, but traditionally lists dill and cumin or other garden herbs. Read more in these Devotions Blogs on this Scriptural theme of God's Love, mercy, justice, compassion: Healing Leaves, Double Duty Herbs, Walking Through the Orchard, Monica's Mint Mocktail, The Lord's Prevailing: Mint, Dill & Cumin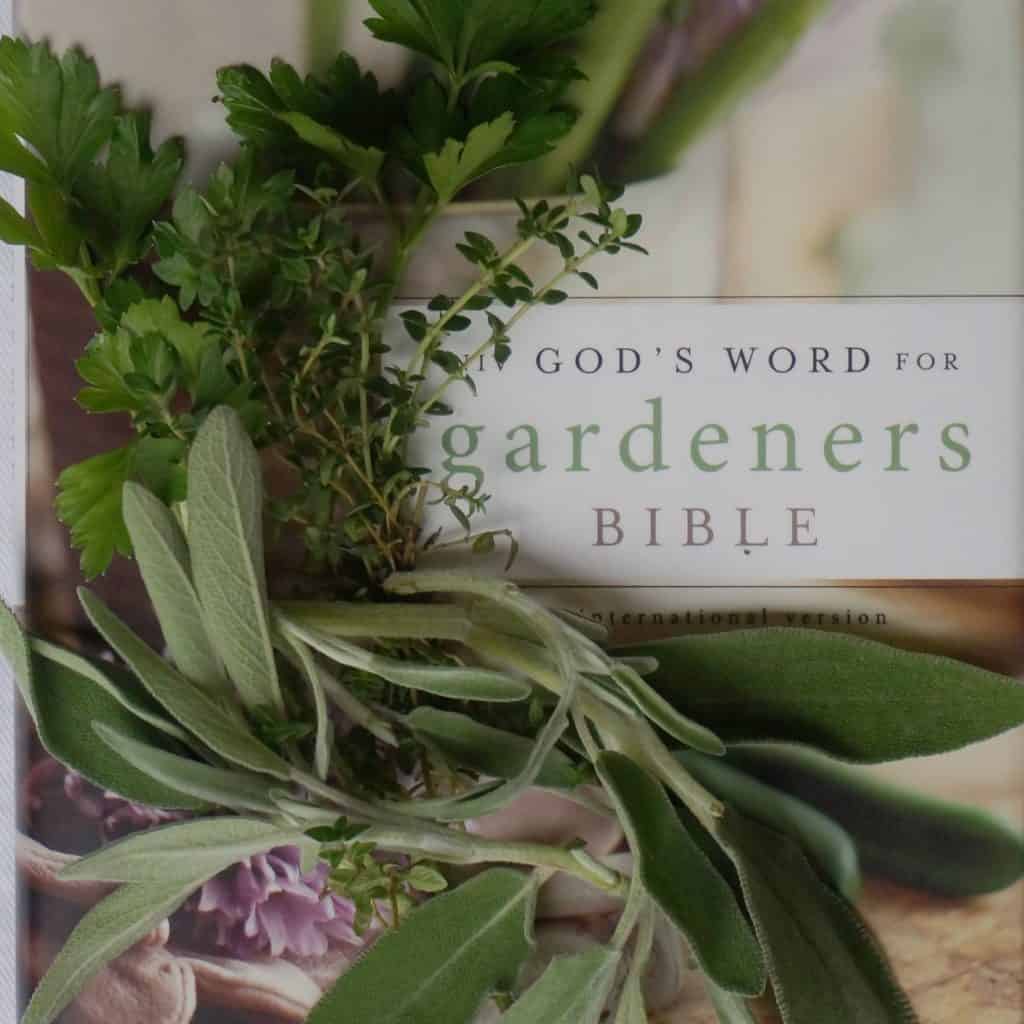 Read a devotion on wormwood in God's Word for Gardeners Bible near Deuteronomy 29:18 in "Bitter is a Heart Turned Away;" also read the parallel Scripture in Matthew 23:23 and a devotion titled "A Gardener's Clue"
Photo Credits:
©2012 Forest & Kim Starr from Flickr Creative Commons, Ruta graveolens (Rue) flowering habit at Kula, Maui, Hawaii
©2020 Shelley S. Cramm remaining photos, rue from 4" transplants in our Irving, TX garden